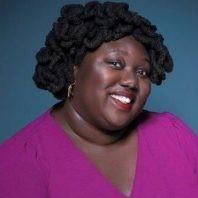 Mandisa Moore-O'Neal is a Black Feminist and founder of The Moore-O'Neal Law Group, LLC, a black feminist law and policy practice. She also serves as Litigation Director at Frontline Legal Services, one of the few non-profits in the state led by a Black PLWH.
In 2012, Mandisa received her JD from Louisiana State University Law Center. In 2007, she was awarded a 2-year New Voices Gulf Coast Fellowship and in 2006 completed her undergraduate degree in History and Sociology at Loyola University New Orleans. As a civil rights attorney, she is focused on HIV de-criminalization litigation, education and advocacy, family law litigation, education and advocacy, employment and public accommodations discrimination litigation and education, and police accountability litigation and advocacy.
Mandisa's primary organizing support work is as Co-chair of the Black Youth Project100-New Orleans' chapter.  She also serves on the BYP100 501c3 Board of Directors, the Center for Resilient Individuals, Families, and Communities Board of Directors and Lift Louisiana's Advisory Board and chair of the Racial Equity and Inclusion Advisory Committee. Mandisa has researched, published and presented on reproductive justice and the law, punitive social policies, and state violence.