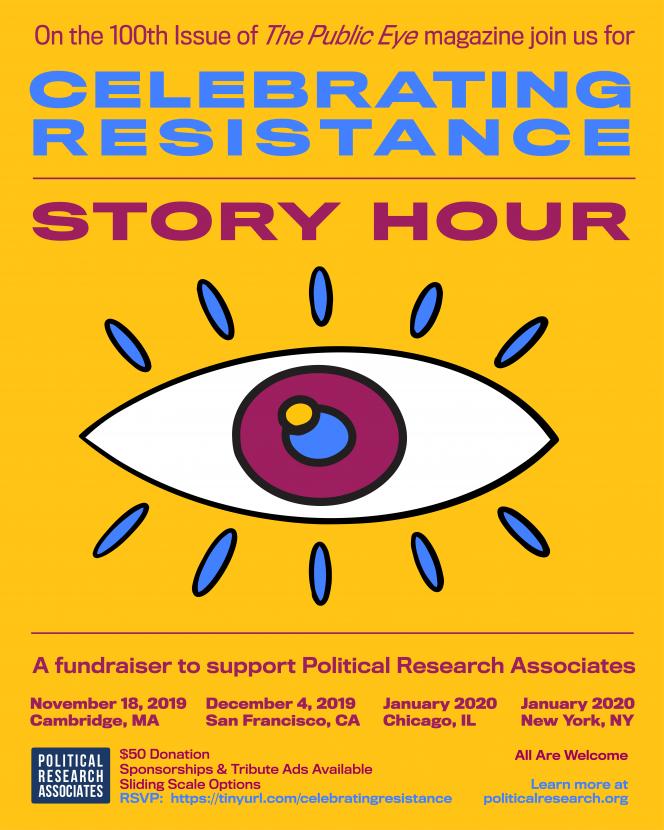 RSVP and Donate here: https://tinyurl.com/CelebratingResistance
About this Event 
Join us for Celebrating Resistance Story Hour, a series of lively gatherings featuring personal storytelling, community resistance, and celebration! Join Political Research Associates for inspiring stories, food and drink, and great company to help us celebrate the 100th Issue of The Public Eye magazine, which has featured the work of dozens of contributors spanning the three decades of the magazine's existence.
Tickets $50 Donation (sliding scale options available)
Can't attend? Support us with sponsorships and tribute packages by contacting Aidan Orly at a.orly@politicalresearch.org
RSVP and Donate here: https://tinyurl.com/CelebratingResistance
Funds from this event will support the critical research and analysis Political Research Associates provides to social justice movement organizing groups fighting oppositional forces from the Christian Right, White nationalists, and corporate oligarchies — whether vigilante or organized within the halls of power.
Learn more about PRA: https://www.politicalresearch.org/
Upcoming Story Hour Events
Storytellers to be Announced!!
New York, NY | January 28, 2020 | The LGBT Community Center| 208 W 13th St.
Chicago, IL | February 2020 | Grace Episcopal Church, 637 S. Dearborn St.
Meet Our Previous Featured Storytellers!
Fatema Ahmad, Mimi Arbeit, Zahra Billoo, Gabriela Cartagena, Karen Chen, Cloee Cooper, Valeria Do Vale, Paul Kivel, Janetta Johnson, Lee Matsueda, Vanessa Moses, Lisa Owens, Eli Plenk, Tarso Luís Ramos, Julia Solstice Simon, Sophia Yen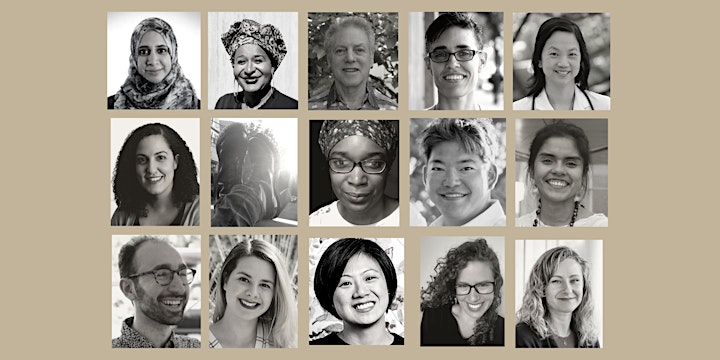 Why Storytelling?
Fighting for social justice begins with a story. For PRA, this is a story of resistance. For nearly 40 years, PRA has brought social justice movements eye-opening, reliable research and analysis on the oppositional forces that attack individuals, communities, and institutions fighting fearlessly to build power that advances our democracy and ensures all of us thrive.
At Celebrating Resistance, we will feature personal storytellers live at one of four venues (Boston, San Francisco, Chicago, or New York City).
Storytellers will share a short personal story about an event that happened, something they witnessed, a moment of personal reflection or a time when they changed someone's perspective.
Questions? Want to get involved? Contact Isabelle Leighton at i.leighton@politicalresearch.org or at 617-666-5300 to have a chat.
What Do Funds from Celebrating Resistance Support?
When you support Celebrating Resistance Story Hour, you are providing crucial funding for Political Research Associates to carry out our mission to advance human rights and democracy. Each year, PRA must raise every dollar to publish The Public Eye, a one-of-a-kind volume of research and analysis critical to the social justice community worldwide. Funding will enable PRA to continue recruiting a wide variety of contributors, keep our publication free online, and cover our printing and editorial costs.
In addition, these resources will help PRA expand our capacity for storytelling and strategic communications as our research team and movement partners take on the challenges ahead of us in 2020.
By clicking on 'Tickets' on this page, you will find levels of support, whether you can attend the events in person, provide a message of support, or simply want to help us finance this publication and our overall mission.
All contributions are tax-deductible to the fullest extent allowed by law.
Federal Tax ID: 36-3193323
Questions or need assistance? Contact Aidan Orly at a.orly@politicalresearch.org or 617-666-5300