Technological tools to increase law enforcement's surveillance capacity will be showcased at this year's annual National Sheriffs' Association (NSA), Education and Technology Expo from June 14-18, heightening concerns regarding law enforcement's targeting of minority communities. But the troubling alignment between far-right movements and the NSA may pose a more endemic threat to racial and ethnic minorities in the U.S. today.
Nearly a quarter of the leadership of the NSA have ties to the far-right Constitutional Sheriffs and Peace Officers Association (CSPOA). A right-wing network of sheriffs founded by Richard Mack in 2011, CSPOA's ideology is rooted in a reading of the U.S. Constitution which prohibits almost the entire structure of the current U.S. federal government, especially its regulatory bodies. CSPOA sheriffs tend to endorse the transfer of federally-owned lands to county level government, harsher anti-immigrant enforcement, collaboration with militia, and nullification, the notion that federal laws can be ignored by local governments at either the county or state level.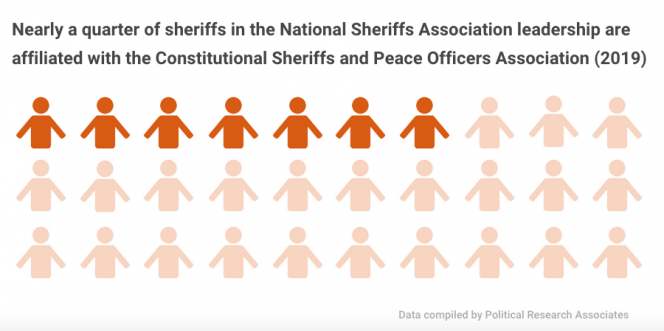 The National Sheriffs' Association has noted this problem, but mostly dismissed how widespread it is. In 2018, NSA President Sheriff Layton of Marion County, Indiana characterized CSPOA as a fringe movement. "The National Sheriffs' Association and State Sheriffs' Associations really don't interact with them," he noted in an interview with NPR. "The mainstream sheriffs across America do not agree with these so-called constitutional sheriffs."
However, seven of NSA's 30 Board of Directors and Executive Committee leadership were designated as so-called "Constitutional sheriffs" by the far-right Patriot movement group, Constitutional Sheriffs and Peace Officers Association (CSPOA).
The CSPOA designates seven National Sheriffs' Association Leaders as so-called "Constitutional" sheriffs
The National Sheriffs' Association is a non-profit organization led by an Executive Committee and Board of Directors comprised of currently serving sheriffs. The Executive Committee 2nd Vice President and six of their twenty-one Board of Directors were listed by the CSPOA as "Constitutional" sheriffs from 2013-2019. Many of these sheriffs have also been vocal advocates of harsher immigration enforcement.
Sheriffs from across the country will gather this week in Louisville, Kentucky, leading and attending workshops including "Securing Our Nation's Borders." However, NSA leadership's alignment with far-right groups in conjunction with the association's push for harsher border enforcement, invites the question: whose security is the NSA concerned with?