Organizing for the Year Ahead: Countering Anti-LGBTQ Persecution and Violence in 2023
A Movement Briefing on Tuesday, January 31st at 4PM ET
Watch Here
Featuring civil rights and gun safety advocate Brandon Wolf, Communications Manager of the Transgender Education Network of Texas Gin Pham, PRA Senior Research Analyst Heron Greenesmith, and organizer Kwyn Townsend Riley.
In this briefing, we established what's likely to happen over the next year in anti-LGBTQ organizing and ways that our partners are organizing to defend, restore, and expand LGBTQ rights. Together, we learned from last year's anti-LGBTQ organizing, wins, and losses and how our movements responded in 2022. The conversation concluded with a prognosis and plan of action for the year ahead, including with ways for you to engage in the struggle with us. 
---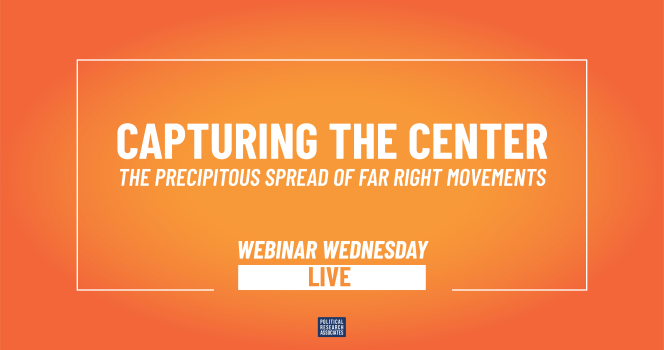 Beginning in the 1980s, we watched as neoliberalism, championed in large part by the New Right, seized both the Republican and Democratic Parties; making austerity, privatization, and individualism the core tenants of American life. Now we're seeing how Far Right ideology, including White nationalism, anti-trans and anti-lgbtq advocacy, misogyny, and authoritarianism, have captured the mainstream Republican imagination. As the pendulum swings towards fascist authoritarianism, we track and resist the oppressive, anti-democratic movements fueling and funding this dangerous ideological shift.
Embodying White Christian Supremacy: From Deputizing Citizens to Flying the Blue Lives Matter Flag
In the same breath as decrying so called liberal identity politics, the U.S. Right declares itself representative of an oppressed White, Christian social class, fly Blue Lives Matter flags in place of Old Glory, and bedeck themselves in the cultish paraphernalia of Trump's MAGA movement. With pins and badges signaling adherence to QAnon or movements like the groypers, right-wing politics have taken on the role of cultural identity for millions of Americans. In this discussion, we examined how the "Culture War" frames the Left's struggle to preserve a faltering American democracy and established a new vision for inclusion and justice that makes meaning of and builds solidarity across identity.
The Next Frontier: Comprehensive Sex Education in the Post-Roe Era
The webinar asked the question: "What's next for the anti-abortion movement in this post-Roe moment?" with a focus on the ongoing anti-comprehensive sex ed movement, its overlap with the antiabortion and anti-trans/anti-lgbtq movements, and, finally, with a nod to the implications for reproductive justice in public education given the recent SCOTUS decisions undermining the separation of church and state.
Beyond the Hate Frame: When Systemic Violence Masquerades as Hate and Extremism
From the candidates in 2022 races carrying the mantle of the Far Right to the treatment of anti-LGBTQ persecution as "phobia", join PRA Research Analysts Ben Lorber, Habiba Farh, and Heron Greenesmith as they name and explore the language and policies that obscure purposeful and concerted programs of social order maintenance. In this conversation, they will answer the questions: "How does the designation of "hate"–i.e. hate crimes, hate groups–and "extremism" or "fanaticism" perpetuate hegemonic oppression? And who benefits from this design?"
---

From state persecution of Muslims in the post-9/11 era, to the criminalization and demonization of sex work, to the alignment of county sheriffs with influential far-right movements, this series explores some of the most pressing and historically-rooted manifestations of state violence and the work of social justice organizers working to dismantle them. Read about our panelists and watch the recordings at the links below.
Big Tech: Anti-Muslim Racism, Surveillance, and Violence in the 20 Years since 9/11
Anti-Sex Work Feminism and the Lived Reality of Criminalization and State Violence
Far-Right Alignment of County Sheriffs and the Violent Policing of Immigrant Communities
---

In the wake of four years of far-right populist governance culminating in a violent insurrection, PRA is holding steady in the knowledge that it's not over yet. Read about our panelists and watch PRA's five-part webinar series evaluating the state of the Right at the links below:
The Arc of History Bends Toward Climate Crisis
Technologies of the Right: Disinformation, Mobilization, and Surveillance
You Will Not Erase Our Kids: The High Stakes Fight for Trans Liberation
Mobilizing for Reproductive Freedom in the Battle Over Bodily Sovereignty
 
---

On 11.17.20, PRA convened social justice movement leaders and PRA partners to reflect and strategize together as we discussed what it will take to build real multi-racial, feminist democracy for the long-haul.
---

In the weeks leading up to the 2020 election, PRA hosted a series of six moderated conversations with experts and social justice movement organizers exploring and challenging some of the most pervasive and influential anti-democratic movements in the U.S. today. We explored the influence of these right-wing movements on the election and the ways they will continue to represent a threat to democracy and civil rights regardless of the electoral outcome.
Read about our panelists and watch the recordings at the links below:
Courted by the Right: A Growing Movement of Right-Wing Sheriffs
Paramilitaries and the Far Right: Advancing a Vision of Civil War
Mobilizing Misogyny in the Service of Authoritarianism
Christian Zionism: The End Times Agenda in U.S. Domestic and Foreign Policy
Election Eve: State of Democracy Report
---

In Summer 2020, PRA researchers and invited guest speakers delved into topics ranging from White nationalism to COVID-19, offering perspectives on how right-wing actors are capitalizing on socio-political instability to advance their agendas, and sharing what the Left can do to combat these threats in pursuit of a multi-racial, feminist democracy. 
Read about our panelists and watch the recordings at the links below:
Multi-Racial Democracy or Authoritarianism?
White Supremacy: Mobilization and Resistance
Disrupting Anti-Trans Feminist Advocacy: An Interactive Training 
---
What is antisemitism? How is it connected to other oppressions? How does it fuel White nationalism? How is it used by Trump and other right-wing leaders to advance a racist, exclusionary policy agenda?
On October 28, 2019, PRA and partners JFREJ, Bend the Arc, United We Dream, Never Again Action, Carolina Jews for Justice, and Jewish Community Action commemorated the anniversary of the Tree of Life shooting by examining these vital topics. We came together to strategize on how to confront antisemitism by building solidarity between Jews and other marginalized groups, animated by an inclusive vision of a world where everyone can thrive.
Read more about our conversation and watch the recording here.