President Trump's third and most recent appointment to the Supreme Court, Justice Amy Coney Barrett, clearly opens the door for new strategies, messaging, and rhetoric by the anti-abortion movement. But it's also a moment the movement has long prepared for. This summer, the Supreme Court ruled on two cases involving access to reproductive services. The first, June Medical Services LLC v. Russo, addressed a Louisiana law that required admitting privileges at nearby hospitals for doctors performing abortions. The court found this requirement unconstitutional, allowing the three abortion providers currently in operation in the state to remain open. The second case, Little Sisters of the Poor Saints Peter and Paul Home v. Pennsylvania, involved an executive order by the Trump administration allowing employers to deny contraception coverage to employees on religious or moral grounds. In this case, the court ruled in favor of the administration, resulting in as many as 126,000 workers losing their contraceptive coverage.[1]
These cases represent two strategies used today by the anti-abortion movement. June Medical Services illustrates what is commonly referred to as the women-centered strategy, in which abortion restrictions are discussed as necessary for protecting women's health and wellbeing.[2] This putatively women-centered legislation, adopted around the nation, tends to involve additional requirements for both patients and providers. For patients, this has resulted in required wait times and ultrasounds, mandatory in-person counseling, as well as requiring abortion providers to distribute medically inaccurate information, such as claiming a link between abortion and breast cancer, or abortion reversal.[3] For providers, legislation typically consists of excessive and unnecessary regulation of staff and physical clinics that are similar to the standards expected at ambulatory surgical centers (where procedures tend to have much higher risk) and facility requirements regarding the size and width of the rooms and corridors.[4]
Little Sisters of the Poor exemplified another anti-abortion strategy: limiting reproductive healthcare access through protections for third-party actors, such as employers, insurance companies, and taxpayers.[5] The most common types of third-party legislation restrict the use of taxpayer money to fund abortion services, or expands health professionals' right to refuse participation in activities that violate their religious or moral beliefs (such as a pharmacist who refuses to sell emergency contraception).[6]
A third strategy used by the movement—and the one most commonly recognized by the general public—is the fetus-centered approach. This strategy is based on the claim that the fetus, from the moment of conception, is a human being deserving equal protection under the law. While the fetus or "unborn child" is often the most prominent focus of the anti-abortion movement, until now, the most effective arguments have been the need to protect women's and third-party actors' rights.
The Incremental Approach
In the wake of the 1973 Supreme Court ruling, Roe v. Wade, anti-abortion organizations and supporters had a singular goal: to convince the general public and lawmakers of the need to eliminate the practice of abortion and protect "unborn children." However, despite a modest increase in membership and outreach capabilities in the 1980s, the movement failed to secure any large-scale policy changes.[7] In the 1990s, in an attempt to expand its base of support beyond the evangelical or Christian Right, movement leaders adopted a new message: that their goal wasn't only protecting fetuses, but also women, business owners, and taxpayers.[8]
This strategy emerged after market research sponsored by the National Right to Life Committee (NLRC), which found that the public believed the movement fails to care for women's health and wellbeing, identifying this as the primary deficiency of the movement.[9] The fetus-centered strategy thus seemed to prevent the movement from addressing the issue of women's right to choose. John Willke, then-president of the NRLC,[10] recognized that this was a significant failure, since, "while three-fourths or more of the people in the United States now admitted this [fetus] was a child who was killed, two-thirds of the same people felt that it was all right to give the woman the right to kill."[11] The anti-abortion movement, therefore, appeared to be indifferent—even apathetic and uncaring—to women, particularly those in difficult or painful situations.
The anti-abortion movement responded by adopting a new approach, emphasizing the fetus as well as the woman, branding their new strategy "Love Them Both." An early boost for the new strategy came with the 1992 SCOTUS decision in Planned Parenthood of Southeastern Pennsylvania v. Casey, which ruled that almost all of Pennsylvania's 1982 law centered on protecting women was constitutional. Ever since, the anti-abortion movement has promoted the "mutual benefits"[12] argument, redefining itself as a movement working with the same sense of compassion and caring toward the mother as the fetus. And the approach both helped rebrand the movement and led to concrete policy change.
Both the women-centered and third-party actors' strategies—promoted by major organizations like National Right to Life Committee (NRLC) and Americans United for Life (AUL)—have adopted an incremental approach to slowly restrict abortion access, emphasizing women's health and safety as well as protecting the freedom of taxpayers and employers, while downplaying theological and religious motivations.
The Becket Fund for Religious Liberty and the Alliance Defending Freedom, for example, have represented a considerable number of anti-abortion crisis pregnancy centers (CPCs) that have challenged city ordinances requiring greater transparency and accountability about their purpose and motivations.[13] In a case involving a CPC in Baltimore, Maryland, an anti-abortion organization sued the city over a law requiring pregnancy clinics that don't offer or refer women to abortion services to post signs disclosing that fact in their waiting rooms. While the court ruled that the law was unconstitutional because it violates free speech, anti-abortion organizations framed the verdict as a win for women's rights and wellbeing. Right after winning the case, Carol Clews, the executive director of the CPC that sued the city, stated, "we are committed to serving women in need in a way that respects their choices, comforts them in a difficult time and is in line with our mission."[14]
Over the last couple of years, state-level anti-abortion legislation has been promoted through model bills created by organizations like AUL.[15] From 2010 to 2018, more than 400 abortion-related bills that were written by special-interest groups were introduced in 41 states, and 69 of them passed into law.[16] The model legislation variously include laws preventing drug-induced abortion,[17] restrictions on taxpayer funding for abortions,[18] and excessive reporting requirements for abortion providers, which experts fear are meant to intimidate providers and patients.[19] Model anti-abortion legislation has also been used in drafting many "conscience" clauses, which establish legal protections for health professionals who refuse to participate in abortion or related services on the basis of religion or moral grounds.[20]
The women-centered and third-party strategies have been effective in expanding the anti-abortion movement beyond its more traditional, religious base. Additionally, these strategies have also been the main—and sometimes only—successful method to secure anti-abortion policy. Since 1973, the anti-abortion movement and its supporters have worked to introduce approximately 1,480 bills in Congress aimed at restricting access to reproductive services. About 42 percent focus on the fetus, including attempts to establish legal personhood or restrictions on abortion when a fetal heartbeat is detected. The remainder either focus on the rights of third-party interests (35 percent), or are framed as protecting women from harm during an abortion procedure (22 percent), including restrictions on patients and abortion facilities.
But most of these legislative attempts failed; only 111 federal laws currently restrict access to abortion services. Among these laws, the majority focuses on third-party interests, with 107 restricting the use of taxpayer funds to pay for reproductive services. Of the other four, three are framed around protecting the fetus, such as the Born-Alive Infants Protection Act of 2002, which defines a "person" as any infant born alive at "any stage of development" and was supported unanimously by the Senate.[21]
The anti-abortion movement has proven much more successful in securing legislation at the state level. Since 1973, states passed just under 1,200 laws restricting access to reproductive services. Of these laws, 52 percent are women-centered legislation, 20 percent are fetus-centered and 29 percent are third-party protections (primarily restricting taxpayer money from funding abortion services). Throughout the years, the proportion of these three different types of state laws has remained relatively stable.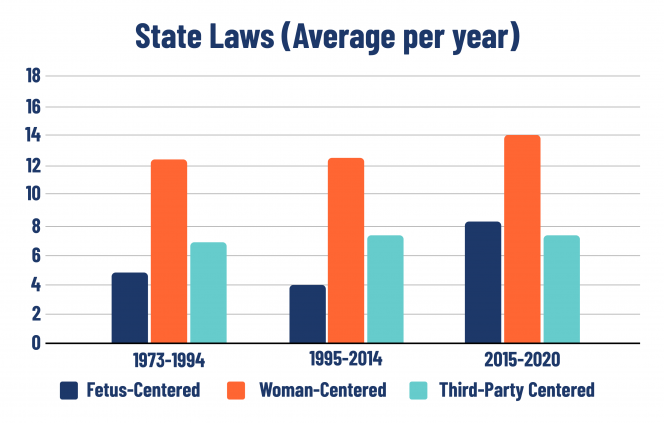 At first look, it seems that the women-centered and fetus-centered strategies are much more successful at the state level than in Congress. In practice, however, many of the laws, particularly those that are fetus-centered, have failed to deliver lasting success for the movement. Many have been immediately blocked by courts as unconstitutional, including laws that ban abortion before viability, which prevent abortion after a heartbeat is detected, and "trigger laws," which are meant to go into effect in the event Roe is overturned.[22] Some women-centered legislation, such as Louisiana's recently overturned law regarding admitting privileges, was also blocked by the courts, although not as often as fetus-centered laws.[23] 
In light of this data, it's clear that the most effective strategy for limiting access to reproductive services has been legislation that focuses either on women or third-party actors. Over the last few years, however, more radical elements of the movement have been gaining support and traction in the broader political sphere. This drive towards larger, more dramatic attempts to overturn Roe v. Wade has been largely influenced by the Trump administration and its rhetoric, as well as recent changes to the Supreme Court makeup. The second of Trump's appointees, Justice Brett Kavanaugh, is considered particularly driven by ideology and has been classified as the second-most conservative Justice, establishing a solidly conservative majority on the Court.[24] Kavanaugh's confirmation in 2018 has led supporters to presume that the moment for major changes to abortion law is finally possible. The rapid confirmation of Justice Amy Coney Barrett to the Supreme Court provokes concern regarding abortion-related cases currently before the court. Additionally, given the torrent of state-level anti-abortion bills following Kavanaugh's appointment, the replacement of Justice Ruth Bader Ginsburg with Justice Barrett may elicit further legislation in this vein among the states.
"Bring this bill to a vote before the roses and babies die"
The fetus-centered approach has had lasting traction among more radical elements of the anti-abortion movement. However, recent changes in the political environment have helped stimulate considerable anti-abortion grassroots energy and activism. As a result of these political changes, in the last three years there has been a significant increase in the number of states' attempts to legislate a complete ban on abortion.[25]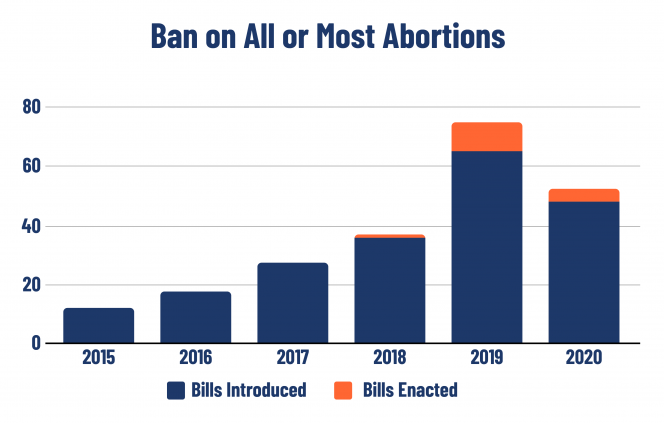 One effort to ban abortion entirely—or almost entirely—are bills commonly referred to as "heartbeat bans." This type of legislation would ban abortion before viability and after a fetal heartbeat has been detected. Janet Porter, who previously was the legislative director at Ohio Right to Life founded the more extremist, anti-LGBTQ organization Faith2Action, has been lobbying in Ohio since 2011 for the passage of a heartbeat ban.[26] The heartbeat bill—a piece of model legislation created by Porter—prohibits abortion after the detection of a fetal heartbeat, which can occur as early as six weeks into pregnancy. For years, the bill's radical nature led most legislators to reject it, as did Porter's intense and over-the-top lobbying style, which included having children distribute teddy bears with audible "heartbeats" to all Ohio state representatives, as well as delivering 2,000 roses to lawmakers along with notes reading, "Bring this bill to a vote before the roses and babies die."[27] During legislative hearings in 2011, Porter even brought two pregnant women before a public hearing, so a projection of their ultrasounds could serve as their fetuses "testifying" before the committee.[28]
Porter's actions generated considerable ire among most lawmakers and frustration for the larger, more mainstream national anti-abortion organizations, many of which saw her advocacy efforts as ineffective at best, and a "dangerous gamble" or harmful to the cause at worst. In an interview with Vox, Steven Aden, AUL's general counsel, said, "We think these kinds of early-gestation bans have been proven to be ineffective. There are more effective ways to express the state's interest in protecting human life and women considering abortion." [29]
Similar tensions between larger, mainstream organizations, and this emergent radical wing of the anti-abortion movement have appeared in other states. When Tennessee's legislature debated a heartbeat ban, SB 1236, which had an amendment that would declare abortions performed after the detection of fetal heartbeat a Class C felony,[30] NRLC General Counsel James Bopp called the bill's language "irrational."
"In developing legislation we have to live in the real world…We have precedent that we cannot avoid with a clever legal argument,"[31] Bopp testified to the state's Senate Judiciary Committee.
A local newspaper further quoted Bopp noting, with respect to SB 1236, "It makes us look foolish, and I don't want to look foolish."[32] 
Even Tennessee Right to Life, AUL, and the state's Catholic bishops opposed the bill. When the bill moved into the General Assembly for a vote, a joint statement from the leaders of the Nashville, Memphis, and Knoxville dioceses declared, "While we wholeheartedly support the intention of the 'Heartbeat Bill' being considered by the Tennessee legislature, we must also be prudent in how we combat the pro-abortion evil that dwells in our state."[33] They also noted the potentially high cost for the state, given the legal fights that would result if the bill passed. The state attorney general also questioned an earlier version of the same bill, HB 1189, which passed in 2017, describing it as "constitutionally suspect" and unlikely to survive the inevitable and drawn-out court battles sure to follow.[34]
Yet, despite the opposition of these larger anti-abortion organizations, a few months later HB 108[35] sailed through the state's lower house, with one legislator dismissing the cost of court challenges by declaring, "we owe it our taxpayers to use every available resource to save babies' lives."[36] The same happened in Ohio. In every state legislative session, the "heartbeat bill" was introduced, and it finally passed into law in 2019.[37] As of September 2020, there are three states with attempted bans on abortion at conception, seven states with attempted bans at six weeks from last menstrual period (LMP), one state with an attempted ban at eight weeks LMP, and one with an attempted ban at 12 weeks LMP. However, all of them have been blocked, either permanently or temporarily, by court orders.[38] This success of the anti-abortion movement is attributed to lawmakers responding to efforts to loosen abortion restrictions in other states, as well as changes in the Supreme Court, and the goal to force it to consider a ban on abortions.[39]
The recent increase in fetus-centered legislation—including heartbeat bans and other pre-viability restrictions—is largely the result of growing restlessness among some in the anti-abortion movement, frustrated by the failure of the incremental approach to stop abortion altogether or deter women from obtaining abortions. Ultrasound requirements, for example, were predicated on the assumption that once a pregnant person views their "unborn child," they would see its humanity and choose not to abort. Instead, research has clearly demonstrated that while ultrasound requirements impose burdens on patients, it rarely changes their minds.[40]
But changes in SCOTUS—particularly the appointment of Trump's nominee Amy Coney Barrett, which is expected to result in the most conservative court in decades—has led to growing demands for bigger, broader change in abortion policy. They've also been encouraged by Trump, who has also fueled radical anti-abortion forces by making false accusations, such as his claims that U.S. doctors are "executing" babies after birth.[41] These trends are reinforcing the most radical parts of the anti-abortion movement and will result—even before overturning Roe—in severely limited access to reproductive services in the United States.
Beyond Roe
Until recently, the anti-abortion movement has worked steadily to expand their base of support through arguments that seem better aligned with voters who are less religious and less conservative than the movement's traditional religious base. This approach corresponds with the fact that most Americans believe abortion should be legal in all or most cases, and therefore reject most fetus-centered arguments.[42]
Political changes, however—at the Supreme Court as well as other federal and state-level court systems—have created new and surprising opportunities. The Trump administration, in concert with Republican Senate leadership, prioritized judicial appointments, establishing a political reality that will be governed by increasingly social-conservative justices. Outgoing Senate Majority Leader Mitch McConnell (R-KY) further requested that veteran federal judges consider early retirement, so that they might be replaced by younger conservative stalwarts while Republicans still control the Senate. According to his spokesman David Popp, McConnell's mantra during 2020 was: "leave no vacancy behind."[43] McConnell's socially-conservative judicial nominees were both an average of 10 years younger than Obama's nominees and were more socially-conservative than nominees from previous Republican presidents in the past.[44] Some of the judges appointed by Trump have, in particular, a track record of restricting reproductive rights, and many hold views that are considered hostile to reproductive rights. This has created a court system that—regardless of the transition of power in the Senate and White House—will make it increasingly difficult to protect access to reproductive rights.
The anti-abortion movement is already preparing for a future when it won't need to rely on the "chipping away" strategy of imposing small, incremental barriers to abortion access. Their success is all but guaranteed, even without the reversal of Roe.
In this new reality, pro-choice advocates must develop a new strategy of their own to ensure continued access to reproductive services. First, it's incumbent upon pro-choice groups to be aggressively involved in voter turnout initiatives, including diligent work to register, inform, and promote turnout in ensuing elections. Second, the pro-choice movement must focus on educating and promoting awareness of the current anti-abortion movement and its most recent policy gains, including how even some anti-abortion advocates fear they are going too far. This new threat highlights the need for pro-choice organizations that can swiftly adapt their messaging, and engage in purposeful networking among longstanding, national pro-choice organizations and their grassroots alliances.
Public opinion on the legality of abortion has remained static over the decades, with minor fluctuations from the mid-1970s to the present day.[45] Thus, shifts in abortion-related policy clearly illustrates changes in messaging, and responsiveness to deviations in the broader political environment. The anti-abortion movement has found significant success following an evolving set of strategies, and awareness of the current political moment. Pro-choice organizations must do the same, acting proactively rather than simply reacting, and leading from the heart rather than the head.
Endnotes
[1]Dahlia Lithwick, "The Supreme Court Sidelines Women in Favor of Religious Bosses," Slate, July 8, 2020, https://slate.com/news-and-politics/2020/07/supreme-court-sidelines-women-little-sisters-of-the-poor-v-pennsylvania.html; Little Sisters of the Poor Saints Peter and Paul Home v. Pennsylvania et al., 591 U.S. ___, 140 S.Ct. 2367 (2020), https://www.supremecourt.gov/opinions/19pdf/19-431_5i36.pdf.
[2] For more about the development of the women-centered strategy by the anti-abortion movement, see Reva Segal, "Abortion and the "Woman Question": Forty Years of Debate," Indiana Law Journal 89(4): 2014 , 1365-1380, https://law.yale.edu/sites/default/files/documents/pdf/Faculty/Siegel_A…
[3] Rachel Benson Gold and Elizabeth Nash, "State Abortion Counseling Policies and the Fundamental Principles of Informed Consent," Guttmacher Policy Review 10(4): 2007, 6-13, https://www.guttmacher.org/gpr/2007/11/state-abortion-counseling-policies-and-fundamental-principles-informed-consent; Guttmacher Institute, "Counseling and Waiting Periods for Abortion," November 1, 2020, https://www.guttmacher.org/state-policy/explore/counseling-and-waiting-periods-abortion.
[4] Guttmacher Institute, "Targeted Regulations of Abortion Providers," September 1, 2020, https://www.guttmacher.org/state-policy/explore/targeted-regulation-abortion-providers. Specific examples of such requirements include Kansas (https://casetext.com/regulation/kansas-administrative-code/agency-28-department-of-health-and-environment/article-34-hospitals/section-28-34-134-health-and-safety-requirements), North Carolina (http://ncrules.state.nc.us/ncac/title%2010a%20-%20health%20and%20human%20services/chapter%2014%20-%20director,%20division%20of%20health%20service%20regulation/subchapter%20e/10a%20ncac%2014e%20.0207.pdf), and South Carolina (S.C. Code Regs. 61-12.605, 606, 807. (1996).
[5] For a detailed account of the development of the third-party strategy and the way it appeals to young libertarian voters, see Alisa Von Hagel and Daniela Mansbach, Reproductive Rights in the Age of Human Rights: Pro-Life Politics from Roe to Hobby Lobby (New York, NY: Palgrave MacMillian, 2016).
[6] Cynthia Dailard, "Beyond the Issue of Pharmacist Refusals: Pharmacies That Won't Sell Emergency Contraception," The Guttmacher Report 8(3): 2005, https://www.guttmacher.org/gpr/2005/08/beyond-issue-pharmacist-refusals….
[7] Walter Isaaacson, "The Battle over Abortion," Time, April 6, 1981, http://content.time.com/time/subscriber/article/0,33009,951620-1,00.html; Melody Rose, Safe, Legal, and Unavailable: Abortion Politics in the United States (Washington D.C.: CQ Press, 2007).
[8]Reva Siegel and Sarah Blustain, "Mommy Dearest?: Women-Protective Anti-Abortion Argument" American Prospect, Oct 2006.
[9] For more information about the conflict within the anti-abortion movement, and the forces that introduced the women-centered strategy, see Alexa J. Trumpy, "Woman vs. Fetus: Frame Transformation and Intramovement Dynamics in the Pro-Life Movement" Sociological Spectrum 34(2): 2014, 163-184, https://www.tandfonline.com/doi/full/10.1080/02732173.2014.878624.
[10] National Right to Life Committee, Inc. (NRLC), 501c(4), EIN: 52-0986195 is one of at least four organizations under the umbrella of National Right to Life. Others include: National Right to Life Educational Trust Fund, 501c(3), EIN: 52-1241126; National Right to Life Educational Foundation, Inc., 501c(3), EIN: 73-1010913;
National Right to Life Conventions, Inc., 501c(4), EIN: 52-1257773; and National Right to Life Political Action Committee (https://www.opensecrets.org/political-action-committees-pacs/C00111278/summary/2020); and
National Right to Life Victory Fund, an independent expenditure political action committee, i. e., a "SuperPAC" (https://www.opensecrets.org/outsidespending/detail.php?cycle=2020&cmte=C00509893).
[11] John Willke, "Life Issues Institute Is Celebrating Ten Years with a New Home," Life Issues Connector, February 1, 2001, https://www.lifeissues.org/2001/02/life-issues-institute-celebrating-ten-years-new-home/.
[12] Jill Elaine Hasday, "Protecting Them from Themselves: The Persistence of Mutual Benefits Arguments for Sex and Race Inequality" New York University Law Review 84: 2009, 1464 – 1539.
[13]Alliance Defending Freedom, "Pregnancy Care Center of New York v. City of New York," May 29, 2020, https://www.adflegal.org/case/pregnancy-care-center-new-york-v-city-new-york; Becket Fund for Religious Liberty, "Supreme Court Protects California Pregnancy Centers' Free Speech," June 26, 2018, https://www.becketlaw.org/media/breaking-supreme-court-protects-calif-pregnancy-centers-free-speech/.
[14] Ryan Colby, "Court to Government: Stop Targeting Pregnancy Centers," The Becket Fund for Religious Liberty, January 5, 2018, https://www.becketlaw.org/media/court-tells-government-stop-targeting-pregnancy-center/.
[15] Susan Roberts, "Why All These Abortion Restrictions? Americans United for Life Has been Working Below the Radar for Decades," The Washington Post, May 31, 2019, https://www.washingtonpost.com/politics/2019/05/31/surprised-by-all-the…
[16]Anne Ryman and Matt Wynn, "For Anti-Abortion Activists, Success of 'Heartbeat' Bills was 10 Years in the Making," The Center for Public Integrity, June 20, 2019, https://publicintegrity.org/politics/state-politics/copy-paste-legislat…
[17]Americans United for Life, "Model Legislation: Abortion Inducing Drug Information Act," https://aul.org/what-we-do/legislation/; Center for Public Integrity, "Model Legislation: Drug-Induced Abortion Information," https://model-legislation.apps.publicintegrity.org/bill/456813.
[18] Americans United for Life, "Model Legislation: Coercive Abuse Against Mothers Prevention Act" and "Abortion Subsidy Prohibition Act," https://aul.org/what-we-do/legislation/.
[19] Garnet Henderson, "Anti-Abortion Lawmakers Want to State to Know Everything about Your Abortion," Vice October 10, 2019, https://www.vice.com/en_us/article/xwe59n/abortion-reporting-laws-lawma…
[20] Americans United for Life, "Model Legislation: Healthcare Freedom of Conscience Act," https://aul.org/what-we-do/legislation/.
[21] Even these three fetus-centered laws are considered by the anti-abortion movement as not going far enough in preventing abortions, and only adding to the incremental strategy. 
[22] Guttmacher Institute, "Abortion Policy in the Absence of Roe," State Laws and Policies, September 1, 2020, https://www.guttmacher.org/state-policy/explore/abortion-policy-absence-roe; Madeleine Aggeler, "These States Could Lose the Right to Abortion Overnight," The CUT, October 27, 2020, https://www.thecut.com/2020/10/what-are-trigger-laws-anti-abortion-roe-v-wade.html.
[23] Adam Liptak, "Supreme Court Strikes Down Louisiana Abortion Law, With Roberts the Deciding Vote," New York Times, June 29, 2020, https://www.nytimes.com/2020/06/29/us/supreme-court-abortion-louisiana.html.
[24] Saurabh Datar, "How Judge Brett Kavanaugh's Confirmation Could Affect Roe v. Wade," The Boston Globe, July 11, 2018, https://www.bostonglobe.com/news/politics/2018/07/11/how-judge-brett-kavanaugh-confirmation-could-affect-roe-wade/s1ZbShSQk6rcFfjrV6x1mO/story.html.
[25] Guttmacher Institute, "State Legislation Tracker," September 15, 2020. The https://www.guttmacher.org/state-policy. The down-tick      in 2020 numbers are likely a result of Covid-19, which led many state legislatures to end sessions early, as well as to focus only on emergency measures to address the health and economic crisis of spring and summer of 2020.  
[26] Porter also has worked on a number of other conservative campaigns, including one centered on gay conversion therapy and serving as spokesperson for Alabama Republican Senate candidate Roy Moore. Her radio show on VCY America, a Christian Radio network was cancelled for her extreme statements regarding dominionism. Porter continues to write a column for World Net Daily, an online news site that promotes fringe, far-right ideas. For more about Porter's work to promote such legislation, see Nina Liss-Schultz, "The Mastermind Behind Ohio's New 'Heartbeat' Abortion Bill is Too Extreme for Christian Talk Radio," Mother Jones, December 9, 2016, https://www.motherjones.com/politics/2016/12/ohio-heartbeat-abortion-ja….
[27] Mary Mogan Edwards, 2016. "Abortion Foe Janet Porter's Zealous Tactics Divide, Inspire," The Columbus Dispatch, December 11, 2016, https://www.timesreporter.com/news/20161211/abortion-foe-janet-porters-zealous-tactics-divide-inspire; Ally Boguhn, "Janet Porter: The Architect of Ohio's 'Heartbeat' Bills," Rewire.News, December 19, 2018, https://rewirenewsgroup.com/article/2018/12/19/janet-porter-architect-heartbeat-bill/.
[28] "Faith2Action Press Release: Ohio's Heartbeat Bill Draws Youngest to Ever Testify," Faith2Action, February 28, 2011, https://web.archive.org/web/20110306024750/http://www.f2a.org/index.php?option=com_content&view=article&id=1679:faith2action-press-release-ohios-heartbeat-bill-draws-youngest-to-ever-testify&catid=65:ohio-news.
[29] Anna North, "Why Anti-Abortion Groups are Backing Away from Abortion Bans," Vox, August 22, 2019,  https://www.vox.com/2019/8/22/20826982/abortion-tennessee-laws-2019-ala…
[30] The bill contains no exception for rape or incest, although it does allow for exceptions in the instance of medical emergency.
[31] James Bopp, testimony before the Senate Judiciary Summer Study Committee on SB1236, August 12, 2019, http://tnga.granicus.com/MediaPlayer.php?view_id=414&clip_id=18467, 2:16:30. 
[32] Anita Wadhwani, "Tennessee Abortion Bill: Lawmakers Consider 'Conception Bill' to Limit Abortions, Overturn Roe v. Wade," The Tennessean, August 13, 2019, https://www.commercialappeal.com/story/news/2019/08/12/tennessee-bill-a…
[33] Anita Wadhwani, "Tennessee Catholic bishops oppose 'heartbeat' abortion restriction, citing legal worries," Tennesseean, February 28, 2019, https://www.tennessean.com/story/news/2019/02/28/tennessee-catholic-bishops-heartbeat-abortion-bill/3016663002.
[34] State of Tennessee Office of the Attorney General, "Opinion No. 17-24 Constitutionality of Proposed Legislation Related to Abortion," March 31, 2017, https://www.tn.gov/content/dam/tn/attorneygeneral/opinions/documents/2017/op17-024.pdf; Tennessee General Assembly, "HB 1189," 110th Session, http://wapp.capitol.tn.gov/apps/BillInfo/default.aspx?BillNumber=HB1189&GA=110.
[35]Tennessee General Assembly, "HB 108," 110th Session, http://wapp.capitol.tn.gov/apps/BillInfo/default.aspx?BillNumber=HB0108&GA=110.
[36]Anita Wadhwani. "Tennessee Catholic Bishops Oppose 'Heartbeat' Abortion Restriction, Citing Legal Worries," The Tennessean, February 28, 2019.
https://www.tennessean.com/story/news/2019/02/28/tennessee-catholic-bishops-heartbeat-abortion-bill/3016663002/
[37]Gabe Rosenber, "A Bill Banning Most Abortions Becomes Law In Ohio," NPR, April 11, 2019, https://www.npr.org/2019/04/11/712455980/a-bill-banning-most-abortions-becomes-law-in-ohio.       
[38] Guttmacher Institute, "State Bans on Abortion Throughout pregnancy," State Laws and Policies, September 1, 2020, https://www.guttmacher.org/state-policy/explore/state-policies-later-ab…
[39]Maggie Donovan, "After the Latest Supreme Court Ruling on Abortion, the Women's Health Protection Act is More Important than Ever." Guttmacher Institute July 2020.      
[40] Eliana Dockterman, "Will Looking at an Ultrasound Before an Abortion Change Your Mind?" Time, January 9, 2014, https://time.com/469/will-looking-at-an-ultrasound-before-an-abortion-change-your-mind/
[41] Chris Cameron, "Trump Repeats a False Claim That Doctors 'Execute' Newborns," The New York Times,  April 28, 2019, https://www.nytimes.com/2019/04/28/us/politics/trump-abortion-fact-check.html. 
[42] Michal Lipka and John Gramlich, "5 Facts about the Abortion Debate in America," Pew Research Center, August 30, 2019, https://www.pewresearch.org/fact-tank/2019/08/30/facts-about-abortion-debate-in-america/.
[43] Carl Hulse, "McConnell has a Request for Veteran Federal Judges: Please Quit," The New York Times, March 16, 2020, https://www.nytimes.com/2020/03/16/us/politics/mcconnell-judges-republicans.html.
[44] Carl Hulse, "Trump and Senate Republicans Celebrate Making the Courts more Conservative," The New York Times, November 6, 2019, https://www.nytimes.com/2019/11/06/us/trump-senate-republicans-courts.html. 
[45] Lydia Saad. "Majority in US Still Want Abortion Legal, with Limits," Gallup, June 25, 2019, https://news.gallup.com/poll/259061/majority-abortion-legal-limits.aspx.