In the years following World War II, far-right ideologues, led by figures like fascist philosopher Francis Parker Yockey, attempted to re-create fascism for the post-war era. Instead of European ethnic divisions and reliance on the politics of imperialism, Yockey envisioned a new order of global coordination based on an amorphous White identity, organizing people of European descent into a loose, self-conscious diaspora, and ultimately into a globalized movement.
The bedrock of this new transnational fascist movement was demographic panic: the belief that a once pure White race was headed to extinction. This idea has motivated right-wing activists from South Africa's neonazi Afrikaner Resistance Movement, which terrorized Black South Africans during the fall of apartheid, all the way to the mass murderer who killed 51 worshippers at two mosques in Christchurch, New Zealand. This narrative has built the impetus for some of the most atrocious violence of the 21st century, while also helping grow some of these fascist movements at a stunning rate. As one recent study showed, most of the rioters arrested or charged for storming the U.S. Capitol Building on January 6 came from communities where White people represent a declining percentage of the local population, and where "Great Replacement" talk may find a ready audience.
Global White Nationalism: From Apartheid to Trump, an anthology published in September of 2020 by Manchester University Press and edited by Daniel Geary, Camilla Schofield and Jennifer Sutton, considers how this approach played out in real politics, before and after the White Power movement of the 1980s fully broke with establishment conservativism. While the actors and rhetoric may change, the imperiled fragility of Whiteness remains at its center, capable of driving horrors beyond imagination.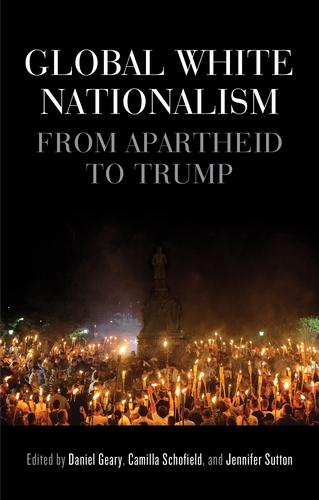 The book's essays cover a wide range of case studies: how segregationists in the U.S. Jim Crow South coordinated with European and African fascists before and after the Civil Rights movement; how right-wing British figures, like the anti-immigrant Enoch Powell and the anti-Irish Independence crusader Ian Paisley, helped give the emerging U.S. White nationalist movement an international agenda; and how the White nationalist government of Rhodesia (now Zimbabwe) banked its survival on courting immigrants with appeals to White identity. These interventions give us a sense of how both White reactionaries in Rhodesia and their allies in mainland Britain dealt with demographics.
Fear of demographic replacement—the notion that White people would be racially "swamped" and overrun—flows through every essay in the book as a deep, motivating force for the varied, international movements examined by the authors. It explains how the White nationalist regimes of Rhodesia and apartheid-era South Africa became focal points for U.S. Southern segregationists and their heirs, and how their perceived common cause helped solidify Whiteness as the rallying cry of contemporary fascist movements. It also helps explain how White supremacists, once divided across lines of ethnic heritage, united under the common perception that all White people were under threat. This "unite and fight" approach helped to solidify the apocalyptic White identity that fueled the terroristic U.S. White Power Movement of the 1980s and 1990s, and continues to motivate accelerationist groups like Atomwaffen today.
In a wonderful essay, "White Australia Alone?," researcher Evan Smith explores how under-covered groups like the Australian Nationalist Workers Party (ANWP) and the Australian National Socialist Party (ANSP) were created as a part of an explicit effort to build an international fascist collaboration during the Cold War era. The organization's use of neonazism as an ideological brand, and the inspiration they took from the success of groups like Britain's National Front, helped elevate the mythology of Whiteness above particular national concerns. This can be seen especially well in the World Union of National Socialists (WUNS), one of the clearest examples of transnationalism, creating a bridge between figures like American Nazi Party's George Lincoln Rockwell and explicit Nazi sympathizers, in Europe and beyond, who were forging an identity after the Axis defeat.
Another author, Kyle Burke, offers a smart analysis of the White Aryan Resistance, a U.S. neonazi organization known for motivating skinhead violence, including its ties to the murder of Ethiopian student Mulugeta Seraw in Portland, Oregon, in 1988. Bruce's chapter demonstrates how the trends of international fascist groups—such as their decentralization, radicalized rhetoric, saintly view of Whiteness, and praxis based on impulsive violence—led to an embrace of street violence over more well-structured organizations
While these snapshots are particularly interesting, the opening chapters of the book do the most to set it apart from other recent studies on White nationalism by unpacking the history of anti-Blackness and the legacies of colonialism that set the stage for militant White identity politics. Few previous scholars have connected our historic constructions of Whiteness, colonial erasure, and the frenetically violent White nationalist movements.  Author Kennetta Hammond Perry writes about how Black experience is often completely erased from discussions of White supremacy, drawing a comparison between W. E. B. Dubois' writing on "the propaganda of history" and colonial narratives that continue to influence the story of White nationalism. Stuart Ward flips the colonialist script by talking about the fear of "reverse colonization" that pervades White nationalist thinking: a perverse and paranoid co-optation of BIPOC victimization, which warns that "White homelands," won through colonization, are in danger of being "reconquered." These narratives erase White culpability in the actual history of colonialism, while using that real history as a prediction of what is coming for them.
Framing the book this way presents Whiteness in its correct, corrosive demeanor, while also refusing to depict White nationalism as just an insurgent fluke. Rather, the authors say, it is built into the structures of our countries.
The opening chapters do feel a bit disconnected from the following sections, largely as these themes are not revisited at any length and the later chapters are more specific in scope. But there is more than enough in Global White Nationalism to recommend, particularly in the breadth of its coverage of White colonial history from Britain and Northern Ireland, to Australia, to South Africa and Zimbabwe. This helps show how colonialism continues to inform White supremacy, both in its institutional and insurgent expressions. Including the histories of people like Ian Paisley adds to our discussions of what fascism is and what coordination looks like, bringing new context to historical conflicts like "The Troubles" that are rarely discussed in terms of fascism and antifascism.
Each scholar in the book should be commended for their contributions to this new reckoning with the crisis we are faced with. White nationalism today is less tied to one country or one national myth, but instead reflects the current state of Whiteness: a racial supremacism that binds together different national backgrounds and ethnicities into one shared, violent identity. This means that the only way to think about fighting back is through a similar embrace of internationalism, to think about anti-racism and advocacy for multiracial democracy as a shared struggle across borders. The racists certainly are.