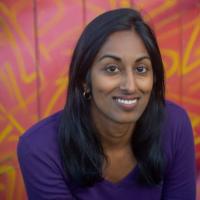 Kitana Ananda is an editor, writer, and researcher working at the intersections of racial, gender, economic, and im/migrant justice. She is committed to building a world liberated from violence. 
Kitana joins PRA as Editor of The Public Eye with nearly two decades of experience that spans editorial, communications, and qualitative research. As an editor, she partners with writers to translate their work into strategic insights that will inform social justice organizing and shift public narratives—most recently, as a Health Not Prisons Collective editorial consultant and as Nonprofit Quarterly's Race + Power editor.
A former college educator, Kitana earned a Ph.D. in socio-cultural anthropology from Columbia University for her scholarship on diasporic politics in Sri Lanka's ethnonationalist civil war. Her writing has appeared in Prism, CNN Opinion, the New York Times, and elsewhere.