Anthony Sabatini headlined a nationalist convention in Tampa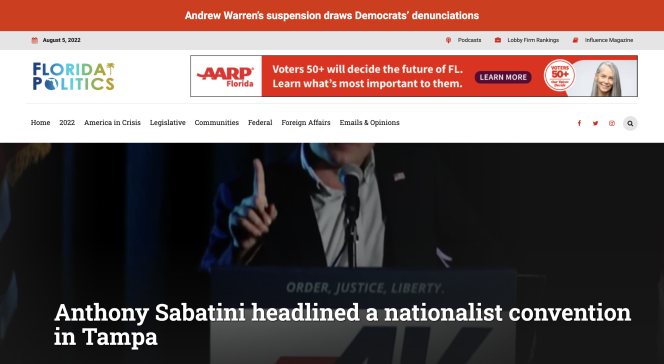 "Sabatini's appearance was first reported by the Political Research Associates think tank, which reported on candidates for office from around the country who participated in the event.
The organization reports the conference was organized by many who previously worked for Nick Fuentes' America First organization, though Fuentes has criticized the group for defecting from America First to America Virtue and aping its structure and methods. In 2017, Fuentes participated in the infamous Unite the Right rally in Charlottesville, Virginia. He drew national attention last year when he chanted cheers for Russian President Vladimir Putin and decried racial diversity at his AFPAC conference in Orlando."
Congressional candidate Anthony Sabatini spoke Friday at a Tampa gathering of nationalists. "God bless the nationalist populist movement," he said during his remarks.