'Free America Tour' with Charlie Kirk Coming to Local Political Candidate's Church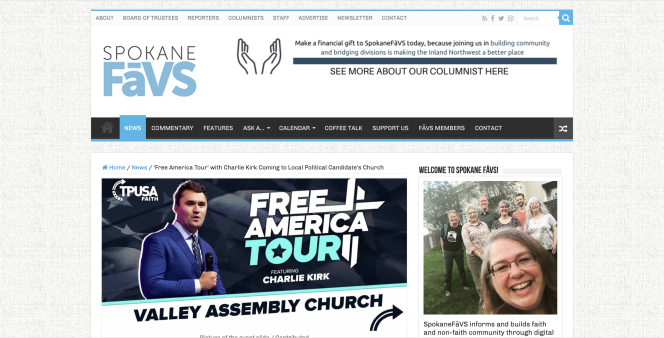 "This is not something Kirk espouses today, according to Matthew Boedy in his article 'Ten Years of Turning Point USA: From Free Markets to Freedom Square' for Political Research Associates, publisher of Religious Dispatches.
'While once Kirk vowed to never politicize his religion … he now says the church should accept its rightful role as counselor to and more authority of government,' he wrote.
Later in the same article, Boedy writes, 'at the February 2020 CPAC convention, Kirk offered his most public endorsement of Christian nationalism yet when he praised Trump as a president who understands the 'seven mountains of cultural influence': a term frequently used by Christian nationalists to refer to various areas of society that adherents believe Christians are entitled to control as they take 'Dominion' over culture and laws on behalf of God.'"
Turning Point USA and its "Free America Tour" with Charlie Kirk will be coming to Spokane on Oct. 29 at 4 p.m. to Valley Assembly, the church Spokane County Commissioner District 4 candidate Paul Brian Noble pastors.