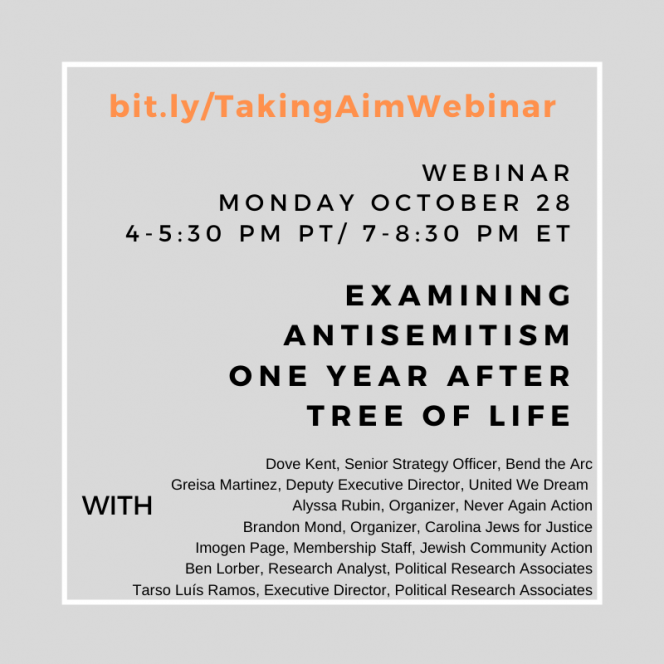 One year since the Tree of Life shooting, hear from organizers and analysts on the front lines combating antisemitism through building solidarity and fighting for safety for all. 
What is antisemitism? How is it connected to other oppressions? How does it fuel White nationalism? How is it used by Trump and other right-wing leaders to advance a racist, exclusionary policy agenda?
In this webinar, we'll commemorate the anniversary of the Tree of Life shooting by examining these vital topics. We'll hear from Jewish organizations on the front lines, and strategize together how to confront antisemitism by building solidarity between Jews and other marginalized groups, animated by an inclusive vision of a world where everyone can thrive.
Further reading: 
The Nation: How Do The Trumpists Mobilize? Around White Nationalism and Antisemitism by Sasha Abramsky
Yes! Magazine: A Year After the Tree of Life Shooting, Anti-Semitism and Anti-Immigrant Racism Thrive by Tina Vasquez and Ben Lorber
Skin in the Game: How Antisemitism Animates White Nationalism by Eric Ward
For more, see PRA's newly published report, "Taking Aim at Multiracial Democracy: Antisemitism, White Nationalism and Anti-Immigrant Racism in the Era of Trump", in collaboration with Bend the Arc: http://bit.ly/TakingAim by Ben Lorber
Monday, October 28, 2019, 4:00-5:30pm PT | 7:00- 8:30pm ET
Co-hosts:
Political Research Associates, Bend the Arc: A Jewish Partnership for Justice, JFREJ: Jews for Racial and Economic Justice, and United We Dream
Panel:
Dove Kent, Senior Strategy Officer, Bend the Arc
Ben Lorber, Research Analyst, Political Research Associates
Greisa Martinez, Deputy Executive Director, United We Dream
Brandon Mond, Organizer, Carolina Jews for Justice
Imogen Page, Membership Staff, Jewish Community Action
Alyssa Rubin, Organizer, Never Again Action
Moderated by:
Tarso Luís Ramos, Executive Director, Political Research Associates

Dove Kent (@dove_kent) is Senior Strategy Officer at Bend the Arc. Dove has over 15 years experience in grassroots organizing, political education, and movement building, including as the former Executive Director of Jews for Racial and Economic Justice.
Greisa Martinez (@Grei_sa) is Deputy Executive Director at United We Dream. Originally from Hidalgo, Mexico, Greisa immigrated to the U.S. with her family at an early age and grew up in Dallas, TX as an undocumented immigrant. Greisa has organized immigrant youth and workers for the passage of pro-immigrant policies at the local and national level for the past 10 years.
Alyssa Rubin (@aly_mixed_up) is an organizer with Never Again Action. She lives in Boston, MA and is a graduate of JOIN for Justice's Jewish Organizing Fellowship.
Imogen Page works at Jewish Community Action in St. Paul Minnesota. A graduate of the University of Minnesota, Imogen has been involved with leftist Jewish organizing in the Twin Cities for several years.
Brandon Mond (@bear_peretz) is Statewide Organizer at Carolina Jews for Justice. Originally from Texas, Brandon has been involved in numerous Jewish organizing and social justice efforts.
Ben Lorber (@BenLorber8) works at Political Research Associates as a Research Analyst focusing on antisemitism and white nationalism. He lives in Boston.
Examining Antisemitism One Year After Tree of Life Webinar from Political Research Associates on Vimeo.