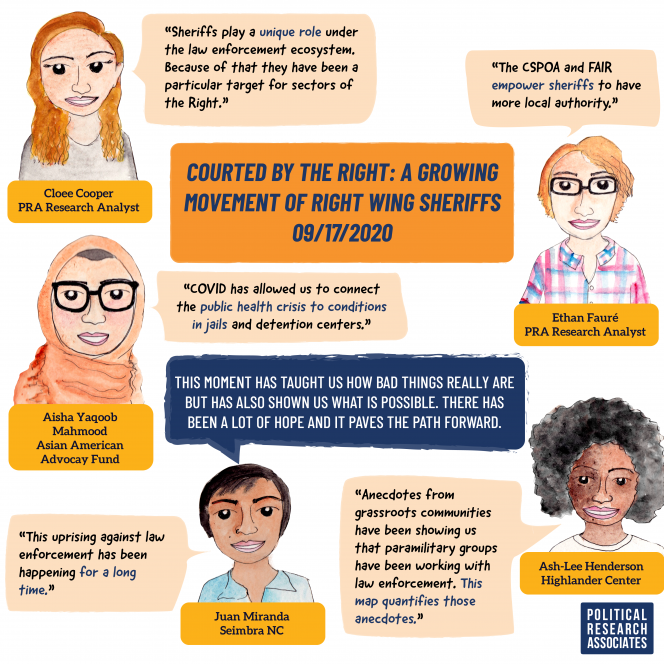 Courted by the Right: A Growing Movement of Right-Wing Sheriffs
Thursday, September 17, 2020 at 4:00pm ET
Featuring: 
Cloee Cooper, PRA Research Analyst
Ethan Fauré, PRA Research Analyst
Ash-Lee Woodard Henderson, Co-Executive Director of the Highlander Research & Education Center
Juan Miranda, organizer with Siembra NC
Aisha Yaqoob Mahmood, Director of the Asian American Advocacy Fund
Over the past decade, sectors on the Right have been making a concerted effort to mobilize county sheriffs to support and expand systems of racialized social control and expulsion. With COVID-19 flourishing in incarcerated populations, 3,081 county sheriffs (90% of whom are White cis men) oversee the county jails that hold approximately a third of the total incarcerated population in the U.S. Some sheriffs are refusing basic measures to reduce disease spread, others are establishing second amendment and anti-abortion sanctuary cities, and more still are perpetuating and profiting from the carceral state. 
With the special release of a new, comprehensive interactive map identifying right-wing sheriffs and their affiliations, PRA research analysts Cloee Cooper and Ethan Fauré will explore the unchecked power that local sheriffs wield in conversation with movement organizers.