In late September, leading anti-immigrant organization Federation for American Immigration Reform (FAIR) held its 13th annual "Hold Their Feet to the Fire" event in Washington, D.C. The event featured 70 talk radio hosts from across the country broadcasting for two days from a radio row set up at a hotel near the U.S. Capitol. FAIR Executive Director Bob Dane described it was "the largest immigration media event of the year." Radio broadcasters weren't the only ones the group brought to D.C. FAIR also offered to cover travel costs for 191 county sheriffs to participate in a concurrent two-day event featuring a Capitol Hill press conference, briefings with administration officials, meetings with members of Congress, White House visits, and an evening reception at FAIR's office.
The "Immigration and Border Crisis Conference," as FAIR labeled it, was the largest event to date in FAIR's years-long effort targeting county sheriffs to advance its draconian agenda. By bringing nearly three times as many sheriffs as radio hosts to its flagship event this year, FAIR made a significant investment—at least $1,100 per sheriff in some cases, meaning FAIR plausibly spent a quarter-million dollars or more just to cover the 191 sheriffs' travel and accommodations. These expenses indicate FAIR is clearly banking on sheriffs to amplify their message and leverage sheriffs' power to further expand the reach of immigration enforcement in local communities.
The late White nationalist John Tanton founded FAIR in 1979. Over the past 40 years, FAIR and other organizations founded or supported by Tanton have significantly influenced U.S. immigration policies that criminalize immigrants and uphold systems of mass detention and deportation. FAIR and its sibling organizations have not only had direct influence on past policy. Many current and former Trump administration officials previously worked for or directly with FAIR and other anti-immigrant groups.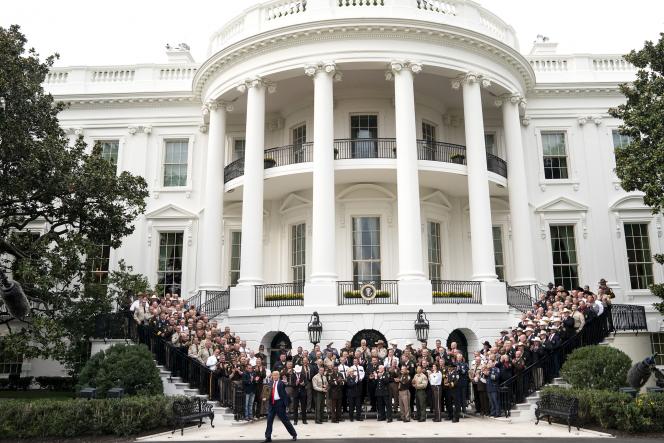 Targeting local sheriffs and other law enforcement is an effort by FAIR to complement this direct access to the administration and develop support for its agenda outside the Beltway. In recent years, FAIR has worked directly with the National Sheriffs' Association in its outreach efforts. NSA officials have attended FAIR events, and solicited legal advice from the anti-immigrant group. Last year, a smaller delegation of sheriffs visited the White House as part of FAIR's Feet to the Fire event. FAIR included a photo of sheriffs with the President in its email to 2019 invitees. This year, FAIR more than tripled the number of sheriffs it brought to D.C. The larger audience required moving the photo opportunity outside to the South Portico of the White House. Sheriffs lined up along the White House stairs, greeting the President with enthusiastic applause and eventually presenting him with an honorary plaque.
Sheriff Tom Hodgson, of Bristol County, Massachusetts, presented the plaque. Hodgson is a member of FAIR's advisory board and actively bolsters the group's mobilization of sheriffs across the country. He reportedly sent emails to every state sheriffs' association promoting FAIR's 2019 conference. In June, Hodgson wrote to an unknown number of sheriffs suggesting "we stand together and begin taking certain actions" including entering into 287(g) agreements with ICE, work with state legislators to emulate Florida's racist anti-sanctuary bill, and "Share social media postings of illegal immigrant crime." The latter request is strikingly similar to White nationalist and influential White House advisor Stephen Miller's actions influencing coverage at Breitbart News. The Southern Poverty Law Center recently reported about Miller's emails, sent as a congressional staffer and Trump campaign official, to Breitbart staff from 2015-2016. "When discussing crime, which he does scores of times, Miller focuses on offenses committed by nonwhites," the SPLC reported. "Hatewatch was unable to find any examples of Miller writing sympathetically or even in neutral tones about any person who is nonwhite or foreign-born." Hodgson recently asserted that "Steve Miller is not a racist" and has reportedly maintained a largely one-way correspondence with the White House advisor. Emails obtained by the ACLU of Massachusetts show Hodgson regularly praises Miller for his media appearances and keeps the administration updated on his local anti-immigrant advocacy.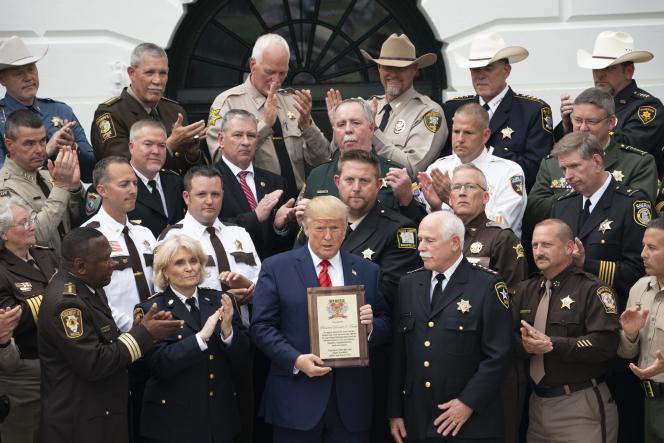 As one of the oldest and largest anti-immigrant organizations, FAIR similarly propagates noxious fearmongering against immigrants and communities of color. Many sheriffs participating in FAIR's event were likely unaware of FAIR and its actions, as were larger law enforcement organizations. Several state sheriffs' associations promoted FAIR's event, implying an endorsement that softened FAIR's status as one of the country's leading purveyors of anti-immigrant bigotry. After hearing constituents' concerns about attending the event, Bartholomew County, Indiana, Sheriff Matt Myers rebuked the state association that promoted the event and distanced himself from FAIR's agenda.
"The state sheriff's association sent that (FAIR trip) notification out to all the sheriffs in Indiana, and you would think that it would be legit," Myers told The Republic. "They are now saying they have no affiliation with FAIR. Then why send it out to all 92 sheriffs?" Myers added that he wrote to both the Indiana and National Sheriffs' Associations expressing concerns about promoting FAIR's event. Both associations told the Republic that they did not organize or endorse FAIR's conference. However, participating sheriffs received materials from the National Sheriffs' Association at the event and its executive director, Jonathan Thompson, attended FAIR's radio row event. It is particularly disingenuous of the NSA to distance itself from FAIR and the September conference. The organization has worked directly with FAIR for years. FAIR will also have an exhibition table at the NSA's winter conference in February, as it had in previous years.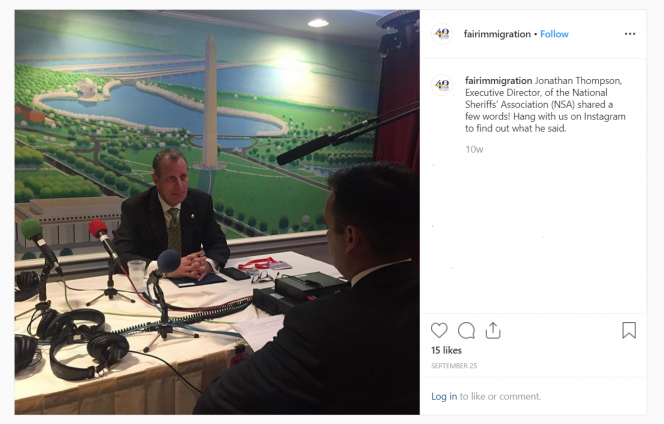 Despite opposition from sheriffs like Myers, FAIR will continue courting law enforcement. Strategically, sheriffs can serve both as messengers to amplify its agenda and as tools to further expand the federal immigration enforcement apparatus. Most notably through cooperation agreements with ICE. To symbolize a continued commitment to this outreach, FAIR requested all travelling sheriffs bring a patch from their department. "We are in the process of designing a law enforcement wall in our office to display the emblems of all the law enforcement agencies we work with," one FAIR official wrote to participants ahead of the conference.
FAIR's new decorative wall may not showcase all of the allies it has cultivated within the broader immigration bureaucracy. Prominent officials within agencies like U.S. Citizenship and Immigration Services have worked with or directly for FAIR and allied organizations. Together, they have contributed to the so-called invisible wall of new fees, requirements, and other barriers for immigrants, asylees, and refugees. The result of these policies has been a dramatic increase in visa processing times, cruel requirements for asylum claims, and record-low levels of refugee resettlement. Such measures chart a course for immigration policy to return to the shameful era where eugenics-influenced racial quotas of the 1920s were the law of the land.
In 2018, then-Attorney General Jeff Sessions spoke at a National Sheriffs' Association conference and heralded county sheriffs as "a critical part of the Anglo-American heritage of law enforcement." Like FAIR, the administration has upheld sheriffs and presenting them as an increasingly crucial for the implementation of its draconian federal agenda. Two weeks after FAIR's conference, several sheriffs returned to the White House to stand alongside acting ICE Director Matthew Albence during a press conference defending ICE's unconstitutional detainer policies. (One of those sheriffs, Maryland's Chuck Jenkins, returned to DC ten days later to deliver similar remarks at the Writers' Workshop, an annual conference organized by White nationalist Social Contract Press.)
The anti-immigrant movement and the administration are enticing sheriffs with access to halls of power in Washington, D.C. It is understandable that many sheriffs accepted a free trip to the nation's capital, but they must recognize their complicity if they continue working with groups like FAIR, aiding and abetting its discriminatory and inhumane agenda.