In response to the murder of George Floyd, an unarmed Black man, by Minneapolis police, racial justice groups have mobilized tens of thousands of protestors to take to the streets and demand justice nationwide. Local and State officials have responded with forceful police crackdowns, National Guard deployments, and curfews. President Trump has called on governors to "dominate the streets" and threatened to invoke martial law to quell protests. He has used federal personnel in Washington, D.C. to clear Lafayette Park with tear gas and flash bang grenades so that he could have a photo op, holding a bible, in front of St. John's church. The President has also tweeted that the U.S. would designate antifa a "terrorist organization"–a threat of dubious legal status–but which could potentially lead to any number of protest organizations being investigated by FBI Joint Terrorism Task Force (JTTF) groups.
In collaboration with other research partners, PRA has documented nearly 150 incidents of right-wing groups, many of them armed, at protests against racist policing. On June 3, three reported adherents of the Boogaloo faction were arrested in Las Vegas on charges of possessing and conspiring to use improvised explosives (Molotov cocktails) at an anti-police brutality protest, reportedly to generate chaos and escalate violence between protestors and the state. There are also credible reports of arson and beatings by small groups of white men in such places as Minneapolis. These developments are rightly alarming, yet must be put into perspective. In most places it is the police who are instigating violence by launching tear gas and firing "less-lethal" rounds at protesters. 
There is a significant history of cooperation between paramilitaries and the police and/or police who are sympathetic to or members of such groups. In Minnesota, community groups and the state AFL-CIO have called for the immediate removal of Bob Kroll, the head of the Minneapolis Police Union, who has a long record of racism. We emphasize the ongoing interaction of systemic White supremacy represented in every aspect of policing, prosecution, and incarceration with far-right movements that tend to see these systems as either not racist enough, or as expressions of de-racialized, generic tyranny that is oppressing White people as much or more than Black, indigenous, and other communities of color.
 Quick Take-Away: What You Need to Know
The far-right groups and individuals that are showing up at protests are not all the same and are not (much) coordinating with each other. At this time, their numbers are small and there is limited evidence they are acting to any significant degree as infiltrators or provocateurs. 

Some of these groups are pro-police, pro-state, and pro-Trump; some see a vast left-wing state even under Trump that must be overthrown; some stand with the current administration on some issues (closing the borders, building a wall) but see the police as tyrannical. Even smaller numbers of outright White nationalists appear to be involved.
Others have shown up with signs that support justice for victims of police violence. In most cases they number in the single and double digits, and not (as some rumors have had it) in hundreds or thousands at any particular protest.

The biggest threat posed by most of these groups, in the current moment, may be that of collaboration, alignment, or involvement with law enforcement. In some cases, this has included police who are allied to or members of explicitly racist organizations such as the Klan. In other cases, officers have been seen to sport "Punisher" skull decals on their cars and clothing that suggest total disregard for rule of law. The involvement of some police officers as members of such groups, and alignment with them, is long-standing. And the policing we have today has been shaped by decades of racist politics.
The second reason for alarm is the militarization of protest space and the normalization of supposed protestors in military drag with weapons. Right-wing politicians aligned with Trump are calling for a "crack-down" on protestors. There are also credible reports of White people, many of them younger, circulating in and around protests committing acts of vandalism, arson, and provocation without regard for and in contradiction to movement tactics established by Black-led organizations. What evidence there is does not suggest these are primarily White nationalist or far-right agitators, or that they have any coordinated plan of attack or disruption.
What Can You Do: Documenting the Threat
What can you do if you witness any of this? Get evidence. 
Photo or video if you can do so without risking your safety. Record the time and location. Note stickers on cars, "uniforms," patches and buttons, weapons if any, numbers, and actions. 
Designate a local person on the security team to collect this information who can then forward to groups such as PRA. 
Also, please don't circulate rumors about massive right-wing infiltration or disruption. Keep the focus on the demands for justice and protecting the movement from attacks by police.
A Deeper Dive
Far-right paramilitary groups, armed and not, are showing up at protests against police violence, sometimes claiming they are there in support of justice for George Floyd, Breonna Taylor, and other Black victims of the police. For the most part, they seem to be doing this openly, in much the same way as they showed up at ReOpen protests. Their very presence, even when carrying signs that say "Justice for George Floyd" or "Her Name Was Breonna Taylor," can both intimidate racial justice activists and distract attention away from Black-led organizing. When they are armed, they also contribute to a militarization of protest that bodes ill for democracy.
The most conspicuous far right protest presence so far are men wearing Hawaiian shirts and tactical gear who identify as Boogaloo Bois, a loose collection of online insurrectionists, some of whom believe a civil war with a tyrannical government is inevitable and in some sense desirable. There is reason for vigilance as they encourage confrontation with law enforcement and have sparked viral rhetoric online, but they haven't yet matched the level of aggression shared via social media with coordinated moves to perpetrate such violence in racial justice protest spaces. This is tested by the June 3 JTTF arrest of three self-identifying Boogaloo Bois apparently plotting to use homemade fire bombs to escalate violence at protests in Las Vegas.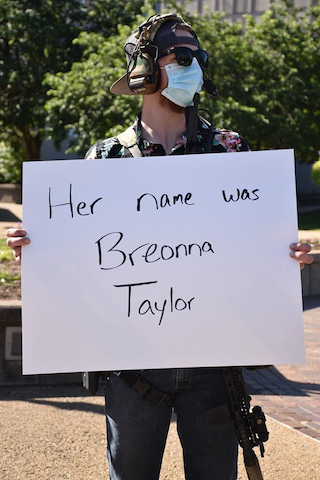 Some unaffiliated or Boogaloo-style groups have shown up to George Floyd and related protests in apparent support of demands for justice. Those who claim to side with protestors tend to do so from a perspective of libertarian-style opposition to government tyranny, with a focus on Second Amendment activism. The militia groups Oath Keepers and III Percenters have been spotted in small numbers in indeterminate roles or opposition stances, while the pro-Trump misogynist Proud Boys are acting as antagonists and counter protesters. Many combine this with extreme mistrust of all existing institutions and a belief in an inevitable showdown with state power on a massive scale. Almost none of them see the U.S. justice system through the lens of systemic White supremacy, seeing generic tyranny rather than a racialized system of social control that negatively affects everyone, but not proportionately. Even when they support justice for the Black victims of racist policing, their presence at protests can intimidate activists and distract attention from Black-led organizing. In most cases, racial justice protestors remain rightfully skeptical of their participation. 
Most far-rightists show up at racial justice actions with the goal of antagonizing protestors, not supporting them. For example, in Tampa, Florida, the White nationalist America First/Groyper movement harassed and cajoled protestors in a bid for media attention. Militia groups such as the Oath Keepers, as well as other paramilitary formations and the Proud Boys, have often justified their presence by claiming to provide protection to property or police officers against protesters. 
While it is speculated that members of far-right groups are helping to start fires and attack locally-owned businesses and community buildings, direct evidence for this remains scarce. Protests have also attracted unaffiliated individuals who confront protestors and press at these events, sometimes violently. There are reports of a group of White men in Philadelphia, armed with baseball bats and other weapons who posed for selfies with police officers and flashed White nationalist "OK" signs, before harassing and attacking protestors.
White nationalists also appear to be conducting online disinformation campaigns, with the goal of inflaming tension and confusing protestors. For example, a Twitter account claiming to represent a national Antifa organization spread sensationalized and highly-reported calls for violence, and has been denounced as a fake. This incident is reminiscent of past efforts by far-right groups to impersonate antifa.
Keep the Focus
In this moment of widespread protest happening in the midst of a global pandemic, which had already attracted right-wing opportunism, it is crucial to keep our focus on the most significant threats and to do our best to act based on accurate and up-to-date information. Street-level actions, even without the complications of a pandemic and a federal administration leaning into authoritarianism and wracked by scandal, are always prone to chaos and have the potential to erupt in violence. Far more often than not, such violence is precipitated and perpetrated by police action. There is also a long history of police-aligned (or even employed) provocateurs providing the excuse for such police violence. Social justice organizations should keep a careful watch and establish procedures for documenting and reporting such actions.
Furthermore, tactics that have shown up in protests organized by the Far Right, for example, the 2017 Unite the Right event in Charlottesville, may be copied to attack racial and social justice protests. The use of a vehicle to attack a crowd is an example. Also, as far-right folks are seen to show up at racial justice protests, armed or otherwise, in nominal support or obvious disruption, this tactic will likely be copied by rightists elsewhere, taking advantage of the same tactics given the same opportunities. We are seeing an emerging process of copy, adopt and adapt, rather than, thus far, a coordinated plan.
It is right to be concerned, and to make a plan. Yet we encourage continued focus on the demands of trusted Black-led organizations. Yes, be aware of potential threats from far-right movements, but rather than amplifying rumors and fear that give far-rightists more credit and power than they warrant, document and share real information that can be analyzed for its threat potential, and be generous with each other in a chaotic and evolving situation.