On July 22, far-right House Republican and top Trump ally Representative Matt Gaetz (R-FL) came under fire for potentially breaking House Ethics rules by funneling taxpayer funds, through an intermediary, to a speechwriting consultant hired in 2019 named Darren Beattie. Beattie made headlines in 2018, when his position as a speechwriter in the Trump White House abruptly ended after CNN revealed that he had given a speech at the H.L. Mencken Club, an annual conference frequented by White nationalists, in New York two years previously. 
But since assuming a prominent role crafting messaging for Gaetz, the politician GQ called "the Trumpiest Congressman in Trump's Washington", Beattie's connection to White nationalist leaders, and commitment to a range of disturbing supremacist and anti-democratic views, has only deepened. In our volatile political moment, Gaetz and Beattie's blend of White nationalist rhetoric with patriotic populism stands to pull institutional conservatism even further to the Right, threatening the already tenuous fabric of multiracial democracy in the U.S.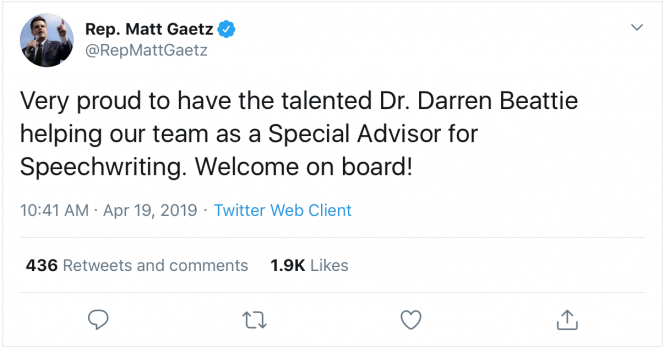 Before joining the Trump White House as Speechwriter and Policy Development Aide, Darren Beattie was a visiting instructor in political science at Duke University during the 2016 election, where he wrote op-eds and signed academic statements in support of Trump. While working as Gaetz's speechwriter, Beattie maintains an active presence on Twitter, where he frequently amplifies 21-year old commentator Nick Fuentes and other leading voices of the White nationalist America First/groyper movement. This youth-driven movement has captured momentum from the fading  'alt-right,' which has been losing prominence due to deplatforming, doxxing, infighting, lawsuits and other challenges since its peak in 2016 and 2017.
Fuentes and his 'America First' program, hosted on the streaming platform DLive and still available on Spotify, is notorious for thinly-veiled warnings of 'White genocide' and demographic replacement, virulent racism and antisemitism, Holocaust denial, and other staples of White nationalist ideology. Fuentes, for his part, has called Beattie "brilliant", "honorable" and "a solid guy". Beattie frequently amplifies other movement voices like Michelle Malkin and Scott Greer, as well as anonymous 'groyper' accounts and the anonymous movement mouthpiece Columbia Bugle, repeats popular movement slogans like 'America First is inevitable' and champions their movement's causes. 
Beattie's Twitter feed projects soft White nationalism to 20,000 followers, including some of the nation's best known conservative thought-leaders and operatives. He adopts movement jargon like 'based' and 'black pill', advises followers to use the neo-Nazi friendly social media platform Gab, credits the alt-right misogynist manifesto Bronze Age Pervert with 'getting him into shape,' cites the anti-egalitarian 'neoreactionary' movement, and platforms far-right academics promoting "race realist" views of biological racial differences. His Twitter feed also platforms male supremacism, retweeting antisemitic manosphere leaders like Roosh, accounts citing "sex differences in cognition," and more. 
 
Reactions to the uprising
Beattie consistently frames the Black Lives Matter uprising as an "anti-White, anti-Christian, Anti-Semitic and Anti-American" assault, representing part of a vast and all-powerful powerful elite conspiracy to erase and replace patriotic America. Here and elsewhere Beattie, much like the America First movement, tends to signal core White nationalist claims that white people in the U.S. are being 'replaced'  by conspiratorial elites, while strategically downplaying an explicit embrace of White identity politics.
At times, however, the mask slips. "If white people are targeted as a group," Beattie claimed on June 23, "they must learn to defend themselves as a group." This bald-faced evocation of white identitarianism echoes a core theory of change held by the white nationalist movement, which hopes that progressive movements like Black Lives Matter will trigger an uptick in reactionary white identity and organizing. Hoping to actualize this theory of change, street-fighting groups like the Nationalist Social Club have spent recent weeks urging "white men" to "organize your own local crew to protect your family and property" from "Black Lives Matter and Antifa communist terrorists" who are coming to "wreak havoc against white people". 
Beattie has excoriated protesters as "bio-defectives", citing the theory of Bio-Leninism, a supremacist doctrine, developed by the racist neoreactionary movement, which asserts that biologically inferior social groups use progressive movements to self-organize into a societal elite, usurping power from groups that would otherwise constitute their natural superiors. The theorist behind Bio-Leninism, known as Spandrell, believes these bio-superiors to be White, Christian and male, stating in 2018 that "if Progressivism were to fail," the social groups Beattie called bio-defectives would "be back picking cotton, or barefoot in the kitchen, or freezing in the shtetl." Echoing theories of elite domination of Whites, Beattie retweeted far-right investor Adam Townsend's claim on July 15 that with diversity and inclusion initiatives in industries like tech, "elites want to strip Whites of their economic, political and social capital, as they are the only opposing force that can displace them." 
Replacement Conspiracy
To advance conspiracies of an elite Left takeover, Beattie samples from the tropes of white nationalist antisemitism, a surprising fact given that Beattie is himself Jewish. "When America takes a knee," he said on June 7, "Soros takes a bow," insinuating the widespread antisemitic conspiracy that liberal Jewish philanthropist George Soros has orchestrated the Black Lives Matter uprising, among other causes, to advance a sinister, long-plotted progressive coup. 
Beattie projects fantastical, outsized power onto his progressive adversaries, imagining conservatives like himself as beleaguered victims of a suffocating and all-powerful "woke" mentality. While parallel sentiments have long been articulated by conservatives and are currently in vogue among some liberal circles, Beattie, like White nationalists and much of the broader far-right, takes the anti-woke crusade in an acutely insurrectionist direction. Noting that some major corporations, government institutions and moderate Republicans have expressed sympathy for Black Lives Matter, Beattie reasons that these power centers have been co-opted and subverted by a progressive conspiracy, rendering the nation's elites impotent and degenerate, unable to truly defend and restore American strength, honor and greatness. "Woke Capital. Woke Army. Woke Government," he lamented in response to one such statement from a U.S. Army Twitter account. "Imagine making sacrifices for a system that hates you."
Turning reality on its head, "antifa," Beattie insists, "is the paramilitary wing of America's corrupt ruling class", and the FBI, CIA, State Department, and Department of Justice are "more closely aligned ideologically with ANTIFA than with middle America." Thus, Beattie sees no contradiction between urging unmarked federal military personnel deployed against unarmed protestors by President Trump to "take back Portland with overwhelming force…make a spectacle of it" and show "no mercy," on the one hand, and portraying "normal patriotic Americans" on the other hand as the underdogs, "increasingly in [the] position of a people whose country is occupied and controlled by a hostile and enemy force." 
Beattie directs similar ire toward Gaetz's more moderate Republican colleagues, stating on July 4th that to "win [the] war against globalists, [Trump] must first absolutely PURGE and CRUSH GOP traitors." Remarkable choice of words by a messaging consultant working for a Republican member of Congress.
The following week Gaetz himself channeled core White nationalist ideas of "White genocide" and "great replacement", stating on Fox News that protests calling for the removal of Confederate monuments represent "attempted cultural genocide" by a Black Lives Matter movement that "pledge[s] allegiance to the destruction of America", and a Left that "wants us to be ashamed of America so that they can replace America". This clip was retweeted by President Trump to his 84 million followers.
Transforming the Mainstream Right
Needless to say, those concerned with norms of decency and democracy should be alarmed that a speechwriter for a prominent House Representative offers a platform to White nationalists, and espouses a range of supremacist and anti-democratic views. More alarming, still, is the broader political transformation of which Beattie sees himself a part. 
In 2018, White nationalist Richard Spencer, reflecting on the firing of Beattie from the Trump White House, wrote "Darren Beattie, among a myriad of other things, proves that the 'American nationalist' strategy will never work…Touching on the Great Taboo will ensure that you get purged." Two years later, Spencer's prediction has proved perhaps both prescient and incomplete. While some White nationalists have faced exclusion from positions in the conservative mainstream, other formations like America First are eager to deepen and extend their influence. "We are consolidating the dissident Right sphere behind America First against conservative inc," Nick Fuentes triumphantly proclaimed, using movement slang, also used by Beattie, to describe the conservative establishment. "America First has been dominating the conversation in important circles within the broader American Right…increasingly this is becoming a central and defining fault line." The trajectories of figures like Beattie stand as bellwethers of this troubling transformation.