Map Updated February 2022
The patriot/militia movement has claimed 404 (of 3081) sheriffs as "constitutional" since 2013. Of those sheriffs, 136 are currently in office, with a significant presence in the leadership of state sheriffs' associations and the National Sheriffs' Association.
Of the 136 sheriffs aligned with the Patriot movement in office as of 2022, 111 were listed by a Patriot movement organization in 2013 as a sheriff who defends the U.S. Constitution, 17 signed a CSPOA Resolution in 2014, 19 were identified by CSPOA in 2014 as a sheriff who rejects gun control measures, 8 participated in a CSPOA survey in 2016, 4 attended CSPOA's Liberty conference in 2019, and 8 were speakers at CSPOA's 2020 Conference. 
The proliferation of Second Amendment sanctuary resolutions and ordinances across the country have been celebrated and in some cases directly influenced by CSPOA. PRA documented 114 counties that passed second amendment sanctuary ordinances and/or resolutions from 2015-2022. Our data accounts for only a fraction of the total policies passed nationally in that timeframe.
Local cooperation agreements with ICE have quadrupled since January 2017. As of February 2022, ICE had formalized over 131 agreements with local law enforcement agencies.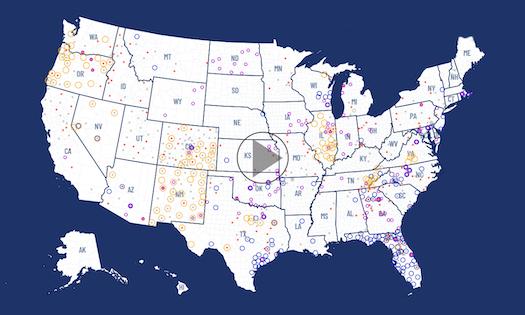 ---
Introduction to Right-Wing Sheriffs
County sheriffs have featured heavily in the right-wing imagination for generations. Their role as elected law enforcement officials ties neatly into narratives of local control and security favored by the Right. The 3,081 county sheriffs (90% are White men) oversee jails, which at any given time, hold approximately a third of the total incarcerated population in the United States. While the office of sheriff and law enforcement more broadly has been critical to upholding White supremacy since this country's founding, there has been a concerted effort in the last decade to mobilize sheriffs towards further supporting and expanding systems of racialized social control and expulsion.
The Constitutional Sheriffs and Peace Officers and Association (CSPOA) and the Federation for American Immigration Reform (FAIR) are two organizations leading this effort—encouraging sheriffs to leverage their local influence and become increasingly vocal supporters of right-wing policies. In recent years, sheriffs affiliated with CSPOA and the broader Patriot movement have been at the forefront of efforts to oppose even modest gun control policies by declaring their counties "Second Amendment sanctuaries." FAIR, working with an increasingly politicized National Sheriffs' Association, led efforts encouraging local sheriffs to enforce federal immigration laws. Since 2017, scores of sheriffs have entered into formal cooperation agreements with Immigration and Customs Enforcement (ICE), expanding the federal agency's reach, and placing more immigrants into the deportation pipeline.
As protests to demand an end to racist policing and the carceral system catalyze a long overdue national conversation on law enforcement's role in upholding White supremacy, "Mapping Far Right and Anti-Immigrant Movement Alignment with County Sheriffs" seeks to help quantify the extent of explicit contemporary far-right and anti-immigrant influence on sheriffs departments.
Who are the Far Right and anti-immigrant networks?
The Constitutional Sheriffs and Peace Officers Association (CSPOA), founded in 2011 by former Arizona sheriff Richard Mack, is the patriot movement's flagship organization for law enforcement. Guided by the belief that sheriffs have a fundamental responsibility to protect counties from an impending "The New World Order," a view that is shared by the Patriot movement more broadly, patriot-affiliated sheriffs have advanced antisemitic and false conspiracy theories, opposed federal land regulations, created and supported right wing militia, and celebrated defiance of COVID-19 shelter-in-place orders. Given CSPOA's close working relationship with the right wing militia, Oath Keepers, CSPOA-affiliated sheriffs play a significant role normalizing relationships between far right militia and local law enforcement. With the Trump administration resourcing an increasingly militarized local law enforcement and propping up right wing paramilitary formations, we expect to see an upwards trend of law enforcement working alongside privately trained militia, resulting in extrajudicial harassment and targeting of political and racialized "others." 
The Federation for American Immigration Reform (FAIR), founded in 1979 by late White nationalist John Tanton, is a leading organization within the contemporary anti-immigrant movement. Along with several organizations founded by or with significant assistance from Tanton, FAIR has wielded significant influence on past and present immigration policy. Over the last decade, FAIR has intentionally cultivated relationships with sheriffs and the National Sheriffs' Association to advance their anti-immigrant agenda and increase the number of local law enforcement agencies that directly collaborate with federal immigration enforcement. In September 2019, FAIR covered travel costs for 191 county sheriffs to participate in a two-day event featuring a Capitol Hill press conference, briefings with administration officials, meetings with members of Congress, and a White House visit. Read more about FAIR's influence within the Trump administration, their outreach and collaboration with sheriff departments and the National Sheriffs Association.
Sources and Methodology 
In 2013, Political Research Associates identified the Constitutional Sheriffs and Peace Officers Association (CSPOA) as a potential threat. PRA later found CSPOA to be a prominent player in the ecosystem surrounding the Patriot movement Wildlife Malheur occupation in Oregon. In a joint report with the Rural Organizing Project, Up in Arms: A Guide to Oregon's Patriot Movement, PRA found local CSPOA affiliated sheriffs' played a significant role defending the occupation and ridiculing federal government overreach. Concerned that CSPOA was offering a state sanctioned cover for the Patriot movement and that CSPOA had national reach, PRA began monitoring the movement more broadly. 
The majority of data on Patriot movement-aligned sheriffs detailed in this map come from several key CSPOA events and activities dating back to 2013. In May of 2013, CSPOA held a convention in St. Charles, Missouri.4 The following year CSPOA held a meeting in Nevada where they claim 75 sheriffs, police chiefs, and police officers from 31 different states attended. During the meeting, they drafted a resolution, which according to CSPOA, was signed by 43 sheriffs across the country. In 2013, CSPOA asked sheriffs nationwide to sign onto a letter pledging to say "No" to Obama Gun Control laws. CSPOA claims 40 sheriffs signed onto or publicly supported the letter. Later, CSPOA made another push to reach sheriffs nationwide, with their Vet Your Sheriff Survey in 2016. PRA obtained records of these events and initiatives, including the documents of 14 sheriffs in Oregon and Florida who filled out the 2016 survey with satisfactory answers. Further, PRA obtained video footage of CSPOA's 2019 Liberty conference, which is available for purchase online. In a few cases, we note when a Patriot movement organization other than CSPOA (namely the Constitution Club) identifies sheriffs as Patriot movement aligned.
PRA identifies sheriffs as "patriot movement aligned" if they have been identified by CSPOA or the Constitution Club as "constitutional" sheriffs. Some of the sheriffs directly participated in CSPOA conferences, campaigns and surveys. Others are designated by Patriot movement organizations as allies, but have not necessarily actively participated in activities. We have included both in our list of current and former sheriffs, and identified precisely how they are affiliated in the map. We publish this list as a preliminary list, knowing that many other sheriffs around the country likely have ties to local and national patriot movement organizations and yet don't appear on any of the lists we've obtained. Likewise, we assume some of the sheriffs published in this list may not view themselves as patriot-aligned, and may therefore distance themselves from this network or affiliation. We welcome sheriffs to take that stand publicly.
PRA started tracking "second Amendment sanctuary" resolutions and ordinances, after noticing a distinct overlap between the resolutions and Second Amendment Preservation ordinances (the predecessor to the Second Amendment Sanctuary resolutions), which members of the Three Percenters, Oath Keepers and Patriot movement aligned sheriffs backed in Oregon in 2018. PRA kept an independent database to track resolutions and ordinances that passed around the country. This map details only a sample of the total number of these local policies that have passed nationally in the last two years. PRA included this policy initiative because the proliferation of second amendment resolutions indicate a win for the Patriot movement, even if not all were directly supported by Patriot-aligned sheriffs.
The sheriffs identified as affiliated with FAIR on this resource are either among the 191 sheriffs FAIR claimed to bring to Washington, D.C. for its September 2019 "Immigration and Border Crisis Conference" or that PRA was able to identify from local news reports, photos, and public records requests.
ICE publishes information on counties it has formal cooperation agreements, under Section 287(g) of the Immigration and Nationality Act, here.
Movement Partners, Resources and Tools for Action
PRA works with movement partners, journalists and research institutes to understand the threat of far-right, anti-Black and anti-immigrant influence on law enforcement, and support strategies to defend human rights. Here are some of the organizations leading the resistance, additional resources and tools for action. 
---
PRA continues to monitor these trends. This interactive map is up to date as of February 2022. We will be updating it periodically. Please send a message to contact@politicalresearch.org if you have a tip.
---
Acknowledgements
Project co-leads: Cloee Cooper and Olivia Lawrence-Weilmann. Cloee Cooper and Ethan Fauré steered data collection and analysis for this map. Lena Gluck, Jess Conger, Marshall Hanig, Julia Cameron, Ari Katzman-Jacobson, and Rodrigo Pimentel supported data collection and fact checking. S. Saenz and Janet Torres advised PRA on data visualization design and procedures. Olivia Lawrence-Weilmann managed the implementation of the data visualization. Juan Thomassie was the web developer behind this map.