Over the past several years, as the mass media quickly tried to orient itself to a growing Far Right and rapidly accelerating news cycle, there's been a tendency to reduce complex issues of oppression, historical inequalities, and the legacy of White supremacist settler colonialism to simplistic caricatures. That's why historian Kathleen Belew's work has become so central to unpacking linked systems of social stratification. By finding a balance between deep analysis and concise explication, Belew has created a model of scholarship that seeks to support everyone—from reporters to non-profits to activists—trying to understand the crisis we are facing.
Belew's 2018 book Bring the War Home: The White Power Movement and Paramilitary America unpacked the insurrectionary White nationalism of the 1980s that was influenced by returning Vietnam War veterans and the erosion of the formalized White supremacy of Jim Crow, making clear the role that violence plays in the Far Right's vision of future power.
In her latest book, A Field Guide to White Supremacy (University of California Press, 2021), an anthology co-edited with historian Ramón A. Gutiérrez, Belew broadens the scope to look at the interlocking ways that White supremacy and oppression are manifested, including issues of patriarchy, attacks on Indigenous sovereignty, attacks on trans and non-binary people, and antisemitism. The anthology includes almost two dozen essays, some reprinted classics but mostly new, illuminating issues such as the complex way the anti-immigrant movement has fueled right-wing politics, or the long history of organized White nationalism that undergirds the modern Alt Right. By collecting these deep interventions into one volume, a journalist, researcher, or interested community member can get oriented to some of these more complicated issues, allowing context and precision to take precedent.
Belew spoke with PRA this October.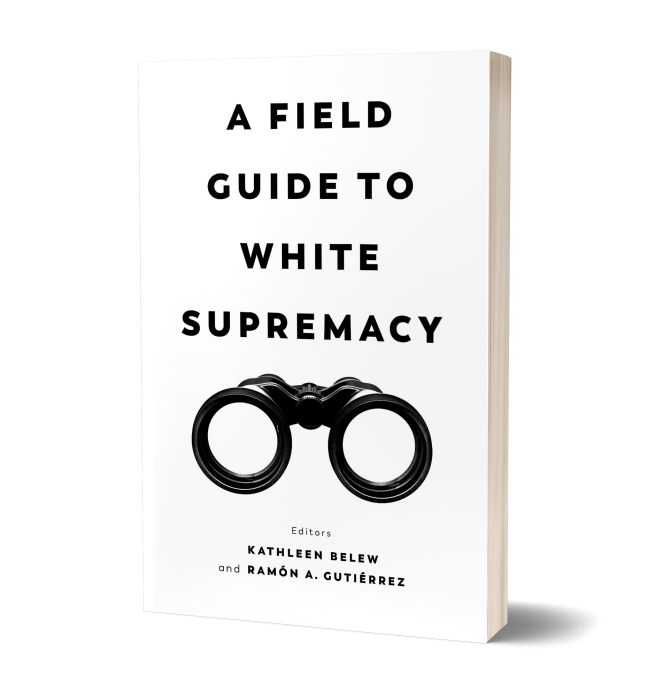 PRA: A Field Guide to White Supremacy is unique in its sweeping scope and how it can act both as a foundational work for newcomers, and has a rich depth for researchers and activists. Where did the idea for this book come from and what were you hoping to achieve?
Belew: The idea started with my co-editor Ramón A. Gutiérrez, who is a preeminent scholar of immigration history. He wanted to do something on nativism, anti-immigration, and White Power ideology. My focus has always been on violence since that's where my training was. Even in the academy where we are hyper-aware of these issues, if you want to study anti-immigration movements, the subject is located across many departments that don't even talk to each other. You'll hear about present day racial identity questions in Ethnic Studies. You'll hear about anti-immigrant violence in the Criminology and Legal Studies departments. You might get history about anti-immigration movements in a History department or Law School, but those two scholars or departments might never talk about the subject together. So even at the University of Chicago, where I teach, we found we have colleagues who are not really communicating with each other but are working on similar topics. The further you zoom out, that lack of understanding about big systems of inequality that link all these stories is everywhere we look. So the idea of putting all of these perspectives into a "field guide" was to create a nexus point for people who want to begin learning more about these issues, how they're intertwined, and where they can go for scholarly consensus.
You open the book with a really interesting glossary of terms that helps to define ideas, but also challenges standards like the Associated Press Stylebook, which is outdated on many issues. Why did you open the book with this and where have you seen problems in some of the terminology used in reporting on these issues?
This came from my own experience doing interviews for my last book, Bring the War Home, where I found that much of what I was doing was offering basic information, language, definitions, and context to journalists. I'm happy to do this, it's one service that historians can provide to the media. But I also think part of the reason they were asking me is that if you look at the AP Stylebook, there are not as many entries as would be ideal for these topics. So we thought we could contribute some of the common terms that field experts use to understand the basics of what this is and how it works.
Language can sometimes have specific historical meanings. Anyone who's studied U.S. history can tell you that almost anytime there is an incoming group of people new to the country, you see language like "tidal wave" or "horde." Very emotive language. When we see that language, it is almost always attached both to a sort of nationalistic policymaking that seeks to harm incoming groups, and to racial violence. So if a person is writing a story they might easily and innocently use a term like "a wave of immigrants" without realizing they're contributing to that problem.
The book covers a huge range of topics, from the Alt Right and White nationalism, to anti-immigrant policymakers, to Indigenous sovereignty and the police. How are these interrelated systems?
This is the big attempt of the book, to put things together. I've been explaining it as this: there's this big fence called White supremacy. It was put up by people who believe in White supremacy, people who believe that White people are different or special or better, and entitled to rights that other people don't possess. Or even that they are the only humans out of many other kinds of beings that look similar. And on this fence are many, many planks. One plank is racial violence and the Klan. Another plank would include things like a legal system that returns different verdicts for White people than it does for people of color. Or health outcomes where we have staggeringly different maternal mortality rates based on your race. Or education outcomes where we see that the kids most harmed by coronavirus delays—by double-digit percentages—are kids of color. And it goes on like that. And I think this analogy is important because individual racist beliefs are part of the problem.
To me, a structural explanation is not sufficient because there are individual racists. People are still going along, repairing and adding links to the fence all the time. But it is also not enough to say that we are just going to deal with racial violence, because there is still the whole rest of the fence. And we can't just walk away from it and say we're not racist anymore, because the fence is still standing.
So to me, this is about trying to understand both individual racist beliefs and the many long histories of structural inequalities in our society that together contribute to harm for communities of color and to disparate outcomes.
What kind of community-based solutions are possible to combat far-right violence or structural inequalities, as in policing, without resorting just to increased law enforcement solutions?
I think it's one of those things where all action is helpful and we need a multi-level approach, and therefore any amount of momentum helps as long as it is not continuing harm. I even think that there is an extent of surveillance resources that are appropriate to direct at this community.
The essay I wrote for this book is about the idea of "lone wolf" terrorist actors affiliated with the White Power movement. "Lone wolf" action actually stymies not only law enforcement, which was the White Power movement's intention, but also community responses and coalition building between impacted people. I think that when we hear about the Tree of Life shooting as antisemitic violence, the El Paso shooting as anti-Latino violence, the Charleston shooting as anti-Black violence, and the Christchurch shooting as anti-Islamic violence, that is certainly true, but those are also all White Power gunmen who share manifesto language and ideology and sometimes social connections. These different shootings are not separate issues, but are intertwined and must be approached that way. I think that there is value in connecting those impacted communities in confronting the threat, because they don't all share the same resources, media visibility, and access to public sympathy. Connecting them all in the same fight, I think, matters a lot for movements.
After the January 6 Capitol insurrection, I think people can understand how much we've been under attack by a lot of these problems. That's a step in the right direction. I think there's a more complex story once we start thinking about settler colonialism, and Doug Kiel's amazing essay about tribal membership and tribal landholding in our book talks about this. When looking at this from a wider scope, there are tons of very complex questions about who is included and excluded in crossing the Southern border, and many other structural questions.
The Field Guide's big, long, historical argument is that the United States was about these radical promises of equality and "life, liberty, and the pursuit of happiness." And if you study any history at all, we know that was only ever meant for White, free, property-owning men. Then, over time, through action, activism, and community building, people demanded inclusion in that radical promise. That didn't happen through magnanimity, but instead people got together and fought for it. I think part of what we learn from reading this set of essays together is that it is unfinished work. If we want democracy, we have to be aware of this other major engine of American life, White supremacy, which continues to threaten it.