This fall, anti-fascist journalist Tal Lavin published his first book, Culture Warlords: My Journey Into the Dark Web of White Supremacy. The book—reported in a "gonzo" style that at times involved undercover infiltration of online White supremacist networks—reads almost as a travelogue through the racist Far Right, in both literal and figurative ways. Lavin takes readers with him to Ukraine, where he spent a year on a Fulbright scholarship digging into family history, and into the corners of online ecosystems inhabited by antisemites, movement misogynists, White nationalists and more.
In October, Lavin joined PRA Executive Director Tarso Luís Ramos for an online discussion of his book's hosted by the Museum of Jewish Heritage. What follows is an edited excerpt of their conversation.
PRA: Why did you choose to write a book on the modern White supremacist movement, and why in this particular gonzo journalism style?
Lavin: I started writing the book after I was already a known quantity to the Far Right. I had written a number of articles about the Far Right, and I'm a Jewish woman—and that's a big part of it. I started out trying to engage with these organizations in a more traditional journalistic manner and found the door slammed in my face. Ultimately the choice to go gonzo was a matter of necessity. In order to get a deeper view on these things, and these organizations, I really had to infiltrate. That often involved just eavesdropping on public chats—not all of it was advanced spycraft of any kind—but sometimes that would lead me to be included in private groups. Sometimes I applied to forums. For example, the largest incel forum on the web asks you to provide a backstory. So I wound up with these fleshed-out alter egos.
It became both a means to understand the rank and file of these movements in ways that went beyond the smooth spokespeople that are very good at pitching their vision for America—in ways that sound less violent than the ideas and rhetoric actually are—and also it enabled me to develop relationships, become more immersed in these worlds, and thus gain a more thorough understanding of them.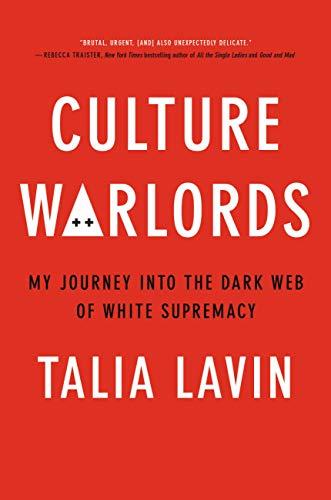 PRA: Will you tell the story of how you uncovered and exposed the identity of a Ukrainian neonazi who ran a highly influential online channel glorifying the Christchurch shooter?
Lavin: I had been surveilling this chat called Brenton Tarrant's Lads. Brenton Tarrant was the shooter of 51 Muslims at prayer in New Zealand, which was a huge tragedy for that country and a global moment of recognition of the violence inherent in White supremacism. Tarrant also wrote a manifesto that became the direct inspiration for several further acts of terror.
Brenton Tarrant's Lads was a Ukrainian language channel and I speak some Ukrainian, so I was able to keep an eye on it. One of the things I noticed was they were distributing translations of the manifesto in Russian and Ukrainian. I had separately joined a public group on Telegram, an encrypted chat app where a lot of White supremacist organizing takes place, called Vorherrschaft Division (the Supremacy Division). It was Americans and Europeans getting together to talk about guns, how much they hate Jews, and engaging in all kinds of stochastic terror, and desire for race war.
I joined under the screen name "Aryan Queen." I had a very generic stock image with a blond French braid, and I started getting DMs from the gentleman who called himself Der Stürmer (named after Hitler's favorite tabloid.) In order to impress my persona, he revealed that he was one of the administrators of this Ukrainian stochastic terror channel. He set the tone of the dialogue as very flirtatious from the start, so I decided to run with it, and for five months wound up talking to him. Eventually he gave me a picture of his face, his license plate, told me where he lived and worked. Eventually I felt I had accumulated enough information and I gave it to the investigative site Bellingcat, which published it as "Revealed: The Ukrainian man who runs a neo-nazi terrorist telegram channel."
He was removed as an administrator, and a couple of weeks later Ukrainian Security Services arrested the people behind the channel. Overall I think sowing dissention in neonazi ranks is a pretty significant thing to be able to do, because these movements use cohesion towards violent ends.
PRA: In the book you discuss the ethical challenge of participating in enough hateful discourse to win the trust of the folks you were researching, and making an ethical choice to focus on expressions of antisemitism based on your own Jewish identity. Those of us who study the White nationalist movement understand antisemitism as a ideological pillar of White supremacy: how in the White nationalist imagination, Jews are engineering the mongrelization and downfall of an imagined biologically superior White race, and are puppet masters behind African American accomplishment and self-determination, Global South immigration, multiculturalism, and so on. Could you sketch out this worldview and some of the history behind it?
Lavin: Anti-blackness is really at the center of White supremacy, of course. The function that antisemitism serves is almost as an ideological linchpin: the idea of the Jew as an omnipotent, world-controlling force. This does two things: first, it enables White men to posit that they are oppressed and fighting against a stronger force, because they have this all-powerful, super cunning, super wealthy opponent that's everywhere and anywhere. Jews also form the locus of a lot of magical thinking. We're both the Bolsheviks inculcating your kids in Marxist critical race theory and the capitalists keeping you in poverty. Someone once said antisemitism is the socialism of fools, and I think what you see is a funneling of that kind of sentiment into a simpler resentment against Jews. The idea that Jews equal capital retains its power even 100 years after the publication of The International Jew by Henry Ford.
The other factor is the White supremacist idea that Jews have nefariously orchestrated their own assimilation into Whiteness, and seek to dilute it from within. It's hard to overstate the impressive array of things blamed on Jews, but [in the White supremacist imagination] gay people are a Jewish plot, transness is a Jewish plot, Hollywood diminishing masculinity is a Jewish plot. And Jews are doing all these things to dilute the power of the White race with the ultimate goal—because these are deeply racist people as well as deeply antisemitic people—of creating a mongrelized, mixed-race, "standard citizen" that we are able to control more easily due to our innate cunning. I feel crazy saying this but I've seen iterations of these sentiments play out again and again in White supremacist chat rooms.
PRA: You mentioned Henry Ford. Can you comment on this sort of legacy in the United States? Any number of historians and analysts have drawn comparisons between our time and the rise of fascism in the first half of the 20th Century. What are the most important lineages that you draw from that period of American history to the period we're living in now?
Lavin: If you look at The International Jew, it was literally distributed at Ford dealerships. You look at The Protocols of the Elders of Zion, that was published in 1903 and was a forgery by Russian security services under the Tsar, and yet it still lives on today. It's sort of a proto-disinformation campaign. It's a really good example of the ways in which pernicious myths have an attraction that far outstrips reality. The Protocols were debunked in their own time, and every decade subsequently; they were debunked by a congressional committee. Yet they retain this attraction because of the simplicity of the worldview they offer.
The idea of an enemy you can pin all your troubles on remains an attractive prospect for a lot of people. That's why the Protocols continue to have appeal online and also why theories like QAnon and the ideological underpinnings of the White Power movement have so much potency still. They speak to a broad human tendency to want to absolve ourselves of our own troubles by finding a scapegoat.
PRA: In a section in your book on White supremacist online dating, you describe the geographical and occupational diversity of your erstwhile suitors on WhiteDate.net: large numbers of software engineers, people with jobs, who are nonetheless drawn to and animated by White supremacy. What are some of the myths and realities about the people who make up the White supremacist and White nationalist movements, and why are those myths so persistent?
Lavin: I think there's a persistant myth that the only people who join the White Power movement are Toothless Cletuses: someone from the South, uniquely ignorant, uniquely poor, uniquely disenfranchised. What I found from my research, and from reading other people's work, is that's just patently not the case. There is no socioeconomic bracket, no level of educational attainment, and no geographical region that is absent from these ideas in American society. There are even people of color who are members of White supremacist groups. Certainly some members of the Proud Boys are people of color and they've used this to absolve themselves from accusations of White supremacy.
As to why people cling so tightly to that myth, I think there are two elements. One is the idea that the only reason people turn to these ideas is deep trauma, deep disaffection, deep inherent damage. I think that is an impulse of Whiteness protecting itself. No matter how broken someone is, you choose your form of brokenness in this world and to choose to inculcate hate in yourself and in the world is the human choice that you're making.
But the second reason I think people are so attached to this myth, is this desire to push the problem onto the poor and ignorant. To say no one in my nice neighborhood, no one I admire, or no one in my workplace, could be part of these movements. And I think that is again self-absolution. And it really impacts our ability to fight these movements wherever they crop up, which could include your neighborhood.
PRA: One of the things that I most appreciate about your book is its focus on misogyny. Despite foundational scholarship on fascism and authoritarianism that clearly links misogyny and gender traditionalism directly to authoritarian personalities, there's nonetheless a tendency within much journalism and scholarship to treat misogyny as an ugly but somehow tangential characteristic rather than a core element and building block of White supremacy.
Lavin: There's a lot of myth-making that goes into White supremacy. There's always, in every fascist ideology and every form of nationalism, an idealized past that they want to return to, and that forms a lot of their ideological heft and motivation. When it comes to initiating archaic gender roles, that's a major characteristic of all sorts of White nationalist groups. On the one hand, you have the ferocious and unsparing attack on anyone who identifies as feminist, particularly Jewish women and women of color. On the other hand, it forms a major linchpin of White supremacist ideology in the sense that it's part of the glorious past that they wish to restore.
The other piece of it is that it forms a point of entry for a lot of people. Misogyny can be a deadly hate in its own right, and I spend a lot of time in the book exploring the incel movement: the radicalized misogynist community of involuntarily celebate men. But it also forms a more socially acceptable "gateway hate." Once you have an established class of people it's okay to hate, and a conceptual framework that an element of progressive social ideology is actually a plot to oppress you, then you've gone a lot of the way that it requires to inculcate people into other hates, like hatred of Black people and hatred of Jews.
PRA: Since Trump's election in 2016, the tenor of fascistic rhetoric with regard to the Oval Office has changed from triumphant to disillusioned. What is the mood of the White nationalist movement in this kind of crucible moment around the elections?
Lavin: I think we are potentially looking at a very bloody election season. There's certainly been a distancing from Trump since the triumphant days of 2016. That was a huge recruiting point for White nationalist groups and many news ones formed. But it's very hard to satisfy extremists. And Trump, as much as he's co-opted the Republican Party, has also in some ways enacted a traditional conservative Republican wish list, from tax cuts to pandering to the Christian Right, through his embrace of Israel and Jerusalem. He also has Jews in his cabinet, and gave away his "pure" White daughter to a Jew. This has been a sticking point for White supremacists, so you've seen consequently a move from electoralism into accelerationism: the idea that the worse things get the easier it will be for us to implement our ideology. On the Far Right it means the more chaos there is, the closer we'll get to rising like a phoenix from the ruins, ethnically cleanse the country, and create a White ethnostate from the horror that we inflict.
When you have Trump out there encouraging vigilante violence, even without slavish adoration of Trump in part of the White Power movement, they can respect and obey a call to create chaos in the accelerationist tradition. There are also elements within the MAGA Right who are militias, who are authoritarians in their own right, and who are willing to wreak whatever havoc is necessary to keep Trump in power. So you have both parts of this nominally anti-state White Power movement, and the "Back the Blue" MAGA people, which has initiated an astonishing amount of violence against protesters over the past three months. You've had dozens of gun attacks, and murders, at protests. You've seen Kyle Rittenhouse, the young man who shot two protesters to death in Kenosha, Wisconsin, embraced fully by the MAGA Right. So a full-throated MAGA embrace of vigilante violence is pretty concerning escalation.
You've also seen Trump himself fanning these flames with armyfortrump.com, encouraging people to intimidate people at the polls. I think if you combine latent MAGA authoritarianism with the violent and well-armed tendencies towards authoritarianism, with the White Power desire for accelerationism and civilizational collapse, you have a really volatile cocktail. I hope to be a Cassandra who is proved horribly wrong by a peaceful transfer of power. I would be delighted to be wrong, but I am very concerned.