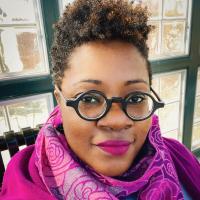 Rev. Naomi Washington-Leapheart
Strategic Partnerships Director
Rev. Naomi Washington-Leapheart, a Blackqueer daughter of Detroit, is a minister, professor, and movement strategist. She is so grateful to be able to make a life doing the work she was made for - preaching, teaching, and plotting resistance to inhumane political, economic, and religious systems. Naomi has worked as a faith organizer and director for POWER Interfaith, the National LGBTQ Task Force, and the Mayor's Office of Public Engagement in the city of Philadelphia. She teaches emerging scholars of religion and theology at Villanova University, Arcadia University, and Harvard School of Divinity. Music was and is her first love. Naomi received dynamic vocal and instrumental training from some of Detroit's finest music educators, and has served as director for the New Spirit of Penn Gospel Choir at the University of Pennsylvania, Co-Pastor and Minister of Music at the Wisdom's Table at St. Peter's United Church of Christ, and most recently director of the Villanova University Gospel Choir. In her spare time, she delights in singing with the Philadelphia Threshold Singers, an all-volunteer choir whose mission is to bring audible comfort and kindness to the bedsides of people living in hospice care.
Rev. Naomi is proudly affiliated with The Fellowship of Affirming Ministries (TFAM). 
Read her full bio here. 
Watch some of her public speaking at https://www.youtube.com/@revprofessorNWL.
Follow Rev. Naomi on social media @OHolyShift.