Conspiracy theories can be many things to different people. For some, it's fun: the entertainment value of outlandish "alternative facts," the promise of secrets revealed, the thrill of envisioning oneself a detective, scouring the internet for clues. For others, it's a reaction marked by fear or a sense of loss, with conspiracist thought serving as the embodiment of unspoken anxieties. Sometimes, they're real—not conspiracy theories but actual conspiracies that have been exposed: Watergate, COINTELPRO, the Pentagon Papers, Tuskegee—and the legacy of distrust they leave in their wake. But for many these days, it's a dangerous rabbit hole without a bottom, which can leave people who buy into them alienated and detached from reality, and perhaps more susceptible to acting out in violence.
In his 2020 book, Red Pill, Blue Pill: How to Counteract the Conspiracy Theories That Are Killing Us, author David Neiwert guides us through the origins and implications of the world of right-wing conspiracism. Within that world, baseless conspiracist narratives serve to perpetuate racist and xenophobic rhetoric, uphold White supremacy, undermine public health, transform already heated political disagreements into an epic battle between good and evil, as well as make select conspiracist leaders profit as they monetize their theories online. Increasingly, these conspiracy theories are strung together into a seamless, lonely, and paranoid worldview.
In the era of ongoing pandemic, as the Right has argued that masks are a dangerous infringement on bodily autonomy, or that vaccines are a ruse for government tracking and population control, the insights of Neiwert's book are more relevant than ever. He spoke with PRA this spring.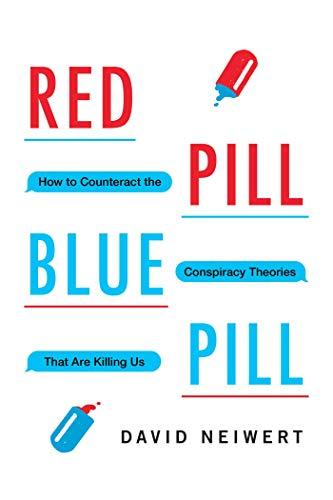 PRA: What prompted you to start researching this topic?
Neiwert: It actually came out of my upbringing and my early work in newspapering. I grew up in southern Idaho, which is John Birch Society country, or at least it was in the 1960s. While I was an editor for the Daily Bee in Sandpoint, Idaho, the Aryan Nations moved in about 40 miles down the road. We were inundated in the region with this influx of White supremacists and far-right extremists.
In 1993, I started writing about the militias organizing in the Northwest. I was an environmental reporter at the time and I covered them as an anti-environmental backlash story. I went out to the woods in Montana, Idaho, and Oregon and interviewed people who were in militias. Then the Oklahoma City bombing happened and I suddenly became this sort of "militia expert."
The more I had to cover these kinds of guys, the more I became familiar with the conspiracy theories that fueled their belief systems. This is particularly true of Aryan Nations, who had a wide-ranging and complex set of conspiracy theories all about defending the White race against Black people and Jews.
After Oklahoma City, there was a gathering of researchers and journalists put together by this man named Bill Wassmuth. He bent my ear for about an hour about researchers' ongoing "beef" with journalists: that most of them parachuted in to these stories, got a thin veneer of the ideology and background, then moved on to whatever the story was the next day. He said what we really need is people who treat this as a dedicated beat. By then I had realized that right-wing extremism left behind a trail of human wreckage wherever it goes, so there was always going to be a story about them. For that reason alone, they were worth writing about as a dedicated beat.
How did Trump's election affect mis- or disinformation, including conspiracy theories?
Politicians have a long history of trading in disinformation, like the Iraq War. But Trump took it to another level—to the conspiracist level—that had never really been done before in American politics, at least not to this extent. He was the most authoritarian personality we've ever had in the office. There are authoritarian followers—people who have authoritarian personalities and need someone to follow—and authoritarian leaders, who have a different set of personality traits. We call them "social-dominance oriented" people, or SDOs. And they wield the truth like a weapon. They do this partly for the purpose of driving a wedge between their authoritarian followers and the reality in which the rest of us live, and it makes his followers actually feel closer to him. He knows when he uses "fake news" to describe perfectly legitimate, non-fake news, he's creating a hall of mirrors, where people can't distinguish what's true and what's not. That was the key to him basically lifting the lid off Pandora's Box of hate.
He gave permission for everybody to be as ugly as possible. I think about all the various times where he could have denounced ethnic and racial hatred and he instead ran in the other direction.
Like when he told the Proud Boys to "stand back and stand by"?
That one was really chilling. I had been watching the militia movement for a long time and the Proud Boys building off the militia movement, but with their own uniforms like polo shirts and MAGA hats. In my mind, I always felt that we would know we were on the cusp of fascism in America if and when we had a president who embraces these militias and uses them as a street-fighting force.  When Trump did that with the Proud Boys, that set off the warning bell I had set for myself 10 years ago.
You write in the book that Left-leaning conspiracy theories also exist, but they're fewer and less influential than those on the Far Right. Why is that?
I initially planned to write a section on left-wing conspiracy theories. These are mostly health-related, like anti-vaccination theories, theories on "chemtrails," or on UFOs. I first encountered [UK conspiracy theorist] David Icke's material at hippy Barter Faires in the 1990s. That was his original market.
One of the interesting dynamics for me is what happens to left-wing conspiracy theories over time. They often start out on the Left, and over time, they're absorbed into the larger alternative universe of conspiracy theories, and become more and more right-wing. We've certainly seen that dynamic at work with the anti-vax movement.
In the end, it doesn't matter if it's left- or right-wing. It's authoritarian, because it's sowing confusion so that people can't tell what's truthful and what's not. That's the kind of environment that induces an authoritarian response in people, because when you have that kind of chaos in the information stream, people become very disoriented, and authoritarian figures become appealing sources of answers to the insecurities raised by that.
Something that intrigued me was your ability to connect one theory to another. Apart from the obvious motive to "red pill" as many people as possible, what holds these theories together? Does one conspiracy theory birth another?
Some of it is the question what's creating the market for this? What motivates people to want to go find this information on the internet? I think one of the strongest motivators is this need to feel heroic. The dynamics of heroism really are central to right-wing personality types. I haven't met many who don't conceive of themselves in heroic terms. This includes the woman who followed border militia conspiracy theories and founded the Minutemen American Defense vigilante group, and who gunned down a nine-year-old girl named Brisenia Flores and her father in Arizona in 2009. Once you've convinced yourself that you're a hero, you're capable of anything, because anything is justified. We certainly saw this on January 6.
One of the aspects of heroism is that they're finding meaning in their lives. The real world is very complex and messy, whereas in the world of conspiracy theories, everything neatly fits together. This is very satisfying on an important level. At the same time, heroes need an enemy, so in right-wing conspiracism, a lot of energy is devoted to creating and naming enemies. In the '60s, the JBS had Communist enemies; more recently, [the enemies are] Antifa.
You also suggest we're in a new age of conspiracy theories, marked by the fact that there's no demand for evidence to support the claims made. How did we get here?
Some of it has to do with malignant forces in the world today, particularly the lords of the internet, who allow this stuff to spread unchecked, and to be encouraged by their own algorithms. Even in the '90s, militias were among the first people to start using the internet as a tool for organizing and, more importantly, recruiting. Once the internet came, they could reach people all around the world.
One of the things we also saw is that these theories and ideologies began to seep into the mainstream and were propagated by edge sites like the Free Republic forum, and that they also bled over to Fox News. This was being picked up and used in the mainstream increasingly, particularly once Barack Obama was elected.
Do you think reviving the Fairness Doctrine—and updating it for the internet age—could help mitigate the spread of conspiracy theories?
I've heard it proposed a lot. The FCC was dedicated to broadcaster rights, because there was a legal ground for the airwaves belonging to the public. When it comes to the internet, it's hard to make that argument. It's much harder to find a legal ground to regulate the internet through the FCC.
Ultimately we need to have a discussion about the First Amendment and understand that, in order to make free speech work and keep it free, the First Amendment does not extend to lies. That would take a national conversation. Ultimately, that's the only thing I see solving it, because I don't know if the regulatory body can handle it. However, in the interim, I'm totally on board with having some kind of federal regulatory agency overseeing social media and their algorithms and ordering these companies to be responsible, because they're certainly not doing it on their own.
Is there a safe way to consume conspiracy theories?
Yeah, I consume them all the time! I would say, in the case of all conspiracy theories, stick to the principles that I outlined early on in the book: the three differences between conspiracy theories and real conspiracies. Because there are real conspiracies out there, and it's worth knowing them, but it's always helpful to keep in mind that no actual conspiracy in history that we know of has ever been uncovered by a conspiracy theorist. That's only been done by a journalist, or a whistleblower [or activists] who goes to a journalist, and works through channels where they can write more authoritatively.
I think the best way to consume conspiracy theories is as research: to go out and be active in debunking them. If you're actively engaged in the work of bringing people back to reality, you should be fine. If you're dedicated to living in reality and basing your worldview on factual evidence, I think you should be perfectly immunized.