While the past few years have brought myriad distressing new developments from the Right and Far Right, it's also been the occasion of a boom in serious and nuanced scholarship and reporting on these movements.
At the end of a year marked by unprecedented conspiracism; nationwide attacks on public schools, public health, and honest accounts of U.S. history; calls for burning books and banning reproductive freedom; and, not least, a violent and coordinated attack on the democratic process itself, we thought we'd highlight some of the journalists, activists and academics whose books are helping inform our resistance.
From fighting White Evangelical Racism to searching for A Wider Type of Freedom, here's what PRA's been reading in 2021.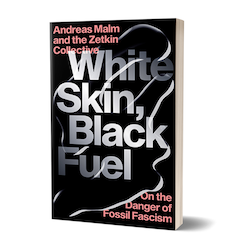 White Skin, Black Fuel: On the Danger of Fossil Fascism
By Andreas Malm and the Zetkin Collective
The book, coauthored by an international group of scholars and activists known as the Zetkin Collective, marks the first systemic inquiry into the Far Right's interventions in the climate crisis. Using case studies from 13 countries in Europe, as well as in the U.S. and Brazil, Malm and the collective explore the links between climate denial, racism, and far-right intersections with the environment and fossil fuels. 
Purchase your copy of the book here. 
---
A Wider Type of Freedom: How Struggles for Radical Justice Liberate Everyone
By Daniel Martinez HoSang
Read PRA's interview with HoSang here.
Daniel Martinez HoSang looks at movements across the last three centuries—from fights against forced sterilizations, for domestic workers' rights, and the environmental justice movement today—that illustrate the need to dismantle failed systems in order to rebuild an equitable society. HoSang talked to PRA this June about the limitations of liberal ideas of freedom, and what a wider conception of liberation means.
Purchase your copy of the book here.
---
Blood Red Lines: How Nativism Fuels the Right
By Brendan O'Connor
Read PRA's interview with O'Connor here.
"Drawing upon existing myths and ideas about race and nationhood," O'Connor writes, "the fascism of our era is a border fascism." It's one defined by a constant focus on nativism and the border, and upheld by a coalition of White nationalist movements, anti-immigrant organizations, corporate profiteers, and far-right and centrist politicians alike. In a recent conversation, PRA asked O'Connor how he thinks border fascism will evolve under the Biden administration—which has already reneged on campaign promises, deporting thousands and refusing to eliminate Trump-era restrictions on refugee admissions—and how progressives can counter these challenges.
Purchase your copy of the book here.
---
Free City!: The Fight for San Francisco's City College and Education for All
By Marcy Rein, Mickey Ellinger, and Vicki Legion
Read PRA's interview with the authors here.
Free City! The Fight for San Francisco's City College and Education for All tells the story of the five years of organizing that turned a seemingly hopeless defensive fight into a victory for the most progressive free college measure in the US. In 2012, the accreditor sanctioned City College of San Francisco, one of the biggest and best community colleges in the country, and a year later proposed terminating its accreditation, leading to a state takeover. Free City! follows the multipronged strategies of the campaign and the diverse characters that carried them out.
Purchase your copy of the book here.
---
Red Pill, Blue Pill: How to Counteract the Conspiracy Theories That Are Killing Us
By David Neiwert
Read PRA's interview with the author here.
Author David Neiwert guides us through the origins and implications of the world of right-wing conspiracism. Within that world, baseless conspiracist narratives serve to perpetuate racist and xenophobic rhetoric, uphold White supremacy, undermine public health, transform already heated political disagreements into an epic battle between good and evil, as well as make select conspiracist leaders profit as they monetize their theories online. Increasingly, these conspiracy theories are strung together into a seamless, lonely, and paranoid worldview.
Purchase your copy of the book here.
---
"Prisons Make Us Safer" and 20 Other Myths about Mass Incarceration 
By Victoria Law
Read an excerpt from Law's book here.
The United States incarcerates more of its residents than any other nation. Though home to 5% of the global population, the United States has nearly 25% of the world's prisoners—a total of over 2 million people. This number continues to steadily rise. Over the past 40 years, the number of people behind bars in the United States has increased by 500%. Journalist Victoria Law explains how racism and social control were the catalysts for mass incarceration and have continued to be its driving force: from the post-Civil War laws that states passed to imprison former slaves, to the laws passed under the "War Against Drugs" campaign that disproportionately imprison Black people.
Purchase your copy of the book here.
---
Global White Nationalism: From Apartheid to Trump
Edited by Daniel Geary, Camilla Schofield, and Jennifer Sutton
This book situates contemporary White nationalism in the 'Anglosphere' within the context of major global events since 1945. White nationalism, it argues, became more global in reaction to the forces of decolonisation, civil rights, mass migration and the rise of international institutions. In this period, assumptions of white supremacy that had been widely held by whites throughout the world were challenged and reformulated, as western elites professed a commitment to colour-blind ideals. The decline in legitimacy of overtly racist political expression produced international alliances among white supremacists and new claims of populist legitimation.
Purchase your copy of the book here.
---
White Evangelical Racism: The Politics of Morality in America
By Anthea Butler
Read PRA's interview with the author here.
One of the myths that Butler discovered in her research is the "conceit that the Religious Right, fundamentalism, and conservative evangelicals emerged as a political movement in response to the Supreme Court decision in Roe v. Wade in 1973." Instead, she writes, it was racism, not abortion, that melded disparate religious conservatives to one another, with antecedents stretching back to the earliest days of colonial America.
Purchase your copy of the book here.
---
Sisters in Hate: American Women on the Front Lines of White Nationalism
By Seyward Darby
Read PRA's interview with the author here. 
After a pro-Trump mob attacked the U.S. Capitol on January 6, author Seyward Darby pointed out that women—and White nationalist women specifically—played a key role behind the scenes. Like much of "women's labor," Darby told NPR, "It's invisible but essential." That's true of the White grievance that lay at the heart of "Stop the Steal" more generally, as the call to overturn the results of the 2020 election were cast as an appeal for White people to preserve a lifestyle and country they perceive as under attack. And that appeal, as Darby documented in Sisters in Hate, is one that can serve as a powerful recruitment tool.
Purchase your copy of the book here.
---
Culture Warlords: My Journey Into the Dark Web of White Supremacy
By Tal Lavin
Read an excerpt from PRA's interview with the author here.
This fall, anti-fascist journalist Tal Lavin published his first book, reported in a "gonzo" style that at times involved undercover infiltration of online White supremacist networks and reads almost as a travelogue through the racist Far Right, in both literal and figurative ways. Lavin takes readers with him to Ukraine, where he spent a year on a Fulbright scholarship digging into family history, and into the corners of online ecosystems inhabited by antisemites, movement misogynists, White nationalists and more.
Purchase your copy of the book here.
---
Reign of Terror: How the 9/11 Era Destabilized America and Produced Trump
By Spencer Ackerman
Ackerman's account takes us on a tour of three administrations, Republican and Democratic, and into the belly of the security state beast. The cumulative effect is a picture of the business-as-usual uses of surveillance, repression, and violence against Arab and Muslim Americans day after day and year after year, regardless of who sits in the White House. This, he notes, is in stark contrast with the ways in which White nationalist violence, consistently the most deadly, has been neglected or ignored by federal law enforcement.
Purchase your copy of the book here.
---
A Field Guide to White Supremacy
Co-edited by Kathleen Belew and Ramón A. Gutiérrez
Read PRA's interview with Kathleen Belew here.
In her latest book, an anthology co-edited with Gutiérrez, Belew broadens the scope to look at the interlocking ways that White supremacy and oppression are manifested, including issues of patriarchy, attacks on Indigenous sovereignty, attacks on trans and non-binary people, and antisemitism. The anthology includes almost two dozen essays, some reprinted classics but mostly new, illuminating issues such as the complex way the anti-immigrant movement has fueled right-wing politics, or the long history of organized White nationalism that undergirds the modern Alt Right.
Purchase your copy of the book here.